Printers Insurance
EMC Insurance Companies has the knowledge and expertise to provide the right business insurance for printers. We offer a full range of insurance for printing companies and provide the right products for your unique risks. Let us help you keep the presses running with our comprehensive printers insurance program.
What Types of Printing Companies Do We Insure?
We provide printers insurance for a wide range of businesses, including those who print:

Newspaper/shopper printing (weekly)
Pre-press services (receiving electronic format and duplicating)
Posters/signs
Quick print or copy shops
Screen printing of promotional materials
Trade show material
T-Shirts
Wallpaper
And more

Business forms
Book printing (no publishing)
Car wraps
Die cutting
Engraving and plate printing
Greeting cards
Manuals
Menus
Types of Insurance for Printing Companies
Insurance for printers can include a variety of individual coverages, including:
Business Auto Insurance for Printers covers company vehicles driven by your employees and provides protection in case of an accident. For example, if your employee accidently causes a rear-end collision while delivering printed materials to a customer, auto insurance would help cover the costs.
Essential Property Insurance for Printing Companies helps protect your buildings, printing and engraving equipment and other property against physical damage. For example, if the roof of your building is damaged due to wind, property insurance would help cover it.
Printers General Liability Insurance protects your business from liability exposures such as injuries or damage to a customer's property. For example, if a customer were to slip and fall at your print shop, general liability would help cover the costs.
Printers Errors and Omissions (E&O), also known as professional printer's liability insurance, provides financial protection if a customer claims you made a mistake on their product. For example, if you printed the wrong price in a customer's product catalog, printers E&O would help cover the costs if you were sued.
EMC also provides an optional additional correction of work expense coverage. This helps cover the cost to correct or reprint materials with errors or omissions.
Umbrella Coverage provides your business with additional security in the event of an expensive liability claim that would otherwise exceed your coverage limits.
Workers' Compensation Insurance covers medical expenses and compensation for workers who get injured while on the job (available in select states). For example, if an employee hurts their back while lifting a box of printed materials, workers' compensation insurance would help cover the costs.
Cyber Liability Insurance for Printers helps your printing business recover from a data breach by helping cover the costs of:
Computer software restoration
Data recovery
Defense and liability
Identity recovery for key individuals within your organization
Response efforts
Third-party liability protection
Disclaimer: These hypothetical examples are provided for illustrative purposes only. They are not intended as predictions of coverage for a claim. The terms and conditions of your insurance policy, including exclusions, in conjunction with state and federal laws, establish coverage. It is important to check your insurance policy for the specific risks that are covered.
How Much Is Printers Insurance?
The cost of insurance for printing companies can vary depending on the size of your business and the type of services you provide. EMC can customize your insurance policy so it works for you. Contact a local independent agent and ask about EMC's insurance for printers.


Hear From an EMC Agent
"EMC is one of the most flexible and responsive carriers in my agency. They are our number one carrier. The people who work for EMC are exceptional. Anytime we call, they answer and respond. I honestly can't think of anything that is broken or anything that needs to be fixed."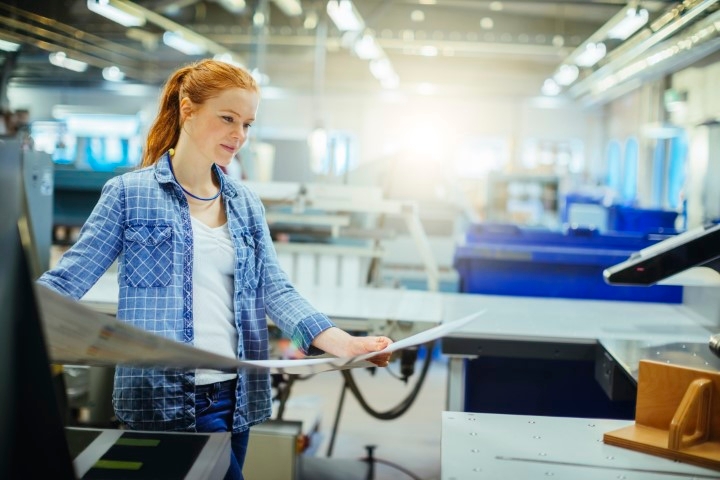 Safety and Loss Control Resources for Printing Companies
EMC has provided loss control services for our policyholders since 1926. Our experienced loss control professionals can give you suggestions and solutions that can lessen your risks.
Ergonomic Evaluations* to identify ergonomic issues before losses occur. We also offer online resources to help you spot problems and educate your employees.
Hazard Control Assessments to identify hazards that pose the greatest potential safety risks to your operations. We then recommend viable solutions to control or reduce these risks.
Injury Management Programs** to help reduce the impact of injuries, including select provider, return to work, prework screening and worksite wellness programs.
Slip and Fall Prevention to help you develop a proactive approach to reducing these incidents at your jobsite. We also offer many online resources to help prevent slips and falls a leading cause of workplace injuries.
Online Safety Training to give your employees convenient access to short training segments, complete with quizzes to check for understanding. You can register, assign training and track your employees' training progress through our easy-to-use online training system.
Visit the Loss Control page to learn more and access our extensive collection of online safety resources.
Count on EMC® for Quality Printers Insurance
Whether you need insurance for your greeting card business or copy shop, EMC has a wide range of business insurance for printers. With more than 110 years of experience, customers know they can Count on EMC — and you can too.

*These services are available only in territories where EMC provides workers' compensation coverage.
**This program is not available in all states.
Find an EMC Agent
Contact a local independent insurance agent and ask about EMC's printers insurance.