Designing Product Warning Labels to Protect Consumers
In 2020, the median jury award in product liability cases was $3.9 million, according to the Insurance Information Institute. To help avoid liability loss and—more importantly—to alert consumers to possible product hazards, organizations should ensure their products display effective warning and safety labels.
Why Do Products Need Warning Labels?
Besides minimizing legal liability, manufacturers and other sellers of a product have an obligation to provide certain information to their customers so that their products can be used safely. This obligation is composed of two distinct "duties":
Duty to warn: to inform buyers and users of hidden product dangers.
Duty to instruct: to inform buyers and users on how to avoid hidden product dangers so the product can be used safely.
Warnings alert to the presence of hazards, and without them, a product can be considered defective. More specific reasons for using effective warning labels include:
Protection of human life: Properly designed safety signs and labels enable people to see the hazards before injury or death results
Enhanced liability defense: Following nationally or internationally recognized standards may enhance a company's product liability defense
Easier exportation: For products exported to Europe, compliance with certain warning label standards allows the product to pass inspection and meet CE (European Conformity) marking requirements. The CE mark declares that products meet the essential requirements of all relevant European Union Directives.
What Are the Standards for Warning Signs and Labels?
The design of product safety signs and labels is mainly governed by two standards.
American National Standards Institute—ANSI Z535.4 provides guidelines for designing product safety signs and labels for products marketed within the United States and Canada. It states, "A product safety sign or label should alert persons to a specific hazard, the degree or level of hazard seriousness, the probable consequence of involvement with the hazard, and how the hazard can be avoided."
While it does not have the force of law in the United States, state and federal courts have called the ANSI standard "state of the art." The probability of a lawsuit after a personal injury occurs while operating or servicing the product is much higher if the safety signs and labels of the product do not comply with this standard.
International Organization for Standardization—ISO 3864-2 outlines principles for designing product safety signs and labels for products marketed outside the United States and Canada. This standard defines a safety label as a "label on a product that informs the observer of one or more potential hazards and describes the safety precautions and/or actions required to avoid the hazard(s)."
There is a design approach that is compliant with both ANSI and ISO standards. Use the signal words DANGER, WARNING and CAUTION on red, orange and yellow backgrounds, respectively, to specify the degree or level of hazard seriousness/risk.
The ISO general warning sign, ISO formatted symbols (pictorials) and word messages convey additional information. The word messages may need to be translated into the language of the final destination. Although ANSI does not require a pictorial warning, they are strongly recommended because they can help cross language barriers and communicate hazard information faster.
Where Should Warning Signs and Labels be Placed?
The location of the product warning sign/label should be:
Distinctive on the product
Placed in close proximity to the hazard
Very visible so the reader can act immediately and avoid the hazard
Sized so that the message can be understood at a safe distance from the hazard
Designed for the product's life span and environment
---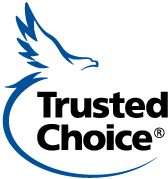 Home Office: 717 Mullberry St. | Des Moines, IA 50309 | 800-447-2295 | www.emcins.com