Flatbed Trailer Safety
Flatbed trailers can carry heavy, oversized, odd-shaped loads, and they can be loaded by an overhead crane. Examples of flatbed freight include large equipment, machinery and building materials. To protect the cargo and nearby motorists, loads must be secured (often using tarps), creating potential ergonomic and fall hazards. Follow this guide to help decrease risks when securing cargo loads.
Plan Ahead
Place heavy loads over the trailer's center of gravity so the I-beam carries the bulk of the weight and deflects as designed. Place the heaviest items on the bottom and in front. Consider what may happen if you stop suddenly or turn a tight corner.
Cargo Securement
U.S. Department of Transportation regulations require over-the-highway truck drivers to properly distribute and secure cargo. You must also follow Federal Motor Carrier Safety Administration (FMCSA) rules requiring cargo securement devices to prevent articles from shifting or falling from commercial motor vehicles.
Tie-downs must be properly secured so they don't become loose or release cargo while the vehicle is in transit. For trailers equipped with rub rails, tie-downs must be located inboard of the rub rails when feasible. Edge protection must also be used whenever a tie-down is subject to abrasion or cutting at the point where it touches a piece of cargo.
The type of cargo determines the required securement method. FMCSA adopted detailed requirements for the securement of the following items:
Logs
Dressed lumber
Metal coils
Paper rolls
Concrete pipe
Intermodal containers
Automobiles, light trucks and vans
Heavy vehicles, equipment and machinery
Flattened or crushed vehicles
Roll-on/Roll-off containers
Large boulders
Tarp Application
Manually tarping flatbed loads can be a dangerous task, especially if the driver must climb onto the trailer to position the tarp. Walking on any load can be treacherous—the load may shift, roll or be slippery.
Tarps often weigh over 100 pounds, so placing one on top of a load can be challenging. Some possible solutions to reduce tarping risks include:
Using an overhead crane or hoist to lift the tarp onto the load using a spreader bar, allowing the driver to stand on the ground while applying tie-downs
Using a specially adapted forklift or overhead hoist
Asking the forklift operator to lift folded tarps to the top of the load
Using a rolling catwalk for safer access
Investing in sliding or rolling tarp retrofit solutions
Consider using smaller lighter tarps and only covering individual sections of the trailer, instead of the entire trailer bed if possible.
Deck Access
Once on the highway, the driver must examine the cargo and its load-securing devices before traveling 50 miles, and then again before 150 miles. At each interval, the driver may need to climb onto the trailer or the load.
A standard flatbed trailer can be slippery when wet and has few hand grips. To help reduce the risk of falls from flatbed trailers:
Provide a portable, storable ladder that can be secured to the flatbed frame with handles extending 3.5 feet above the deck
Require proper footwear—snug fitting, good support, properly laced and slip-resistant soles
Stress the three-points-of-contact rule, which requires at least three points of contact at all times when getting onto or off the deck
Descend slowly
Use extra caution when working in inclement weather
Keep steps, ladders and walking surfaces free of snow, mud and debris
Don't use tires or wheel hubs as a step surface
Don't use the door frame or door edge as a handhold
Don't climb down with something in your hand
Don't jump down—you may land on an uneven surface, which can lead to injury
Install temporary guardrails or fall arrest nets around the trailer sides when working on the trailer deck
---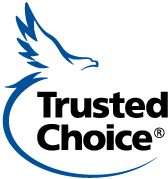 Home Office: 717 Mullberry St. | Des Moines, IA 50309 | 800-447-2295 | www.emcins.com