Driver Qualification
Selecting the right drivers and monitoring driving records are critical tasks for maintaining a safe fleet. According to the National Highway Traffic Safety Administration, 6 million vehicle crashes are reported each year in the United States. Most of these accidents occur due to driver error (90%). To help manage your risk, you should establish driver qualification criteria and regularly monitor your drivers as part of a fleet safety program. Do not entrust any employee with a vehicle—not even for a quick errand—until you know they have the necessary safe driving skills and behaviors.
Driver Qualification Criteria
When deciding whether an employee is qualified to drive a company vehicle, start by looking at their Motor Vehicle Record (MVR). An employee's driving history is a good indicator of their driving skills and behaviors. Other criteria include a valid and correct type of driver's license, a minimum two years of experience with the kind of vehicle they will be operating, and training specific to the type of vehicle and/or cargo. Employees with any of the following violations on their MVR in the last five years should be disqualified from driving:
Driving under the influence of drugs or alcohol
Vehicular manslaughter
Using a vehicle to commit a felony
Hit and run/leaving the scene of an accident
Fleeing/eluding police or resisting arrest
Reckless driving
Speeding more than 15 mph over limit
Open container violations
Operating vehicles with a suspended/revoked license
Passing a stopped school bus
Railroad crossing violation
Minor violations should also be evaluated in conjunction with any at-fault accidents when determining an employee's eligibility (see the matrix below). Examples of minor violations include:
Speeding 15 mph or less over limit
Failure to stop
Following too closely
Failure to yield
Driving too fast for conditions
Seatbelt violations
Improper turn
Texting/phone use violation
Seatbelt violation
Unsafe lane change
Illegal passing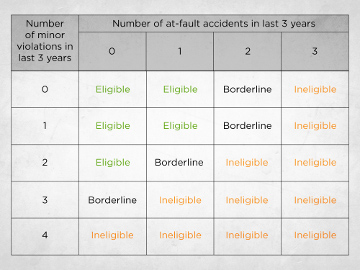 What Should be Included in Driver Training?
Each new driver should be trained on your fleet safety program. Provide ongoing training to all drivers on topics such as defensive driving, driver fatigue and distracted driving. Be sure to keep everyone up to date on any regulatory and policy changes.
For new drivers and existing drivers, a road test should be completed with an experienced, safe company driver. This is not only a good learning opportunity, but a documented road test is further confirmation of your company's due diligence in preventing motor vehicle negligent entrustment.
Disqualified drivers who become eligible again should be required to successfully complete a driver improvement class before being placed on your active driver list. The training should include remedial and behind-the-wheel training.
Driver List
Maintain a list of eligible and ineligible drivers based on your qualification criteria, including the following information:
Driver name
Driver license number
Driver license type
Endorsements
Date of hire
Date of last MVR check
Date of driver training
Remember to include any employees that use their personal vehicle for company business. Recheck the records of all drivers at least annually, and more frequently for drivers at or near the eligibility borderline.
---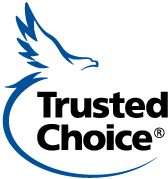 Home Office: 717 Mullberry St. | Des Moines, IA 50309 | 800-447-2295 | www.emcins.com