Loss Control Insights for Schools
School Bus Safety Tips for Students, Parents, Drivers and Schools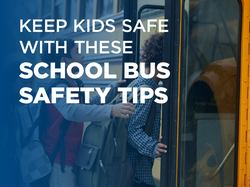 Some 25 million students countrywide begin and end their day on a school bus. Designed for safety, with flashing lights, giant mirrors, stop-sign arms and bright yellow paint, students are 70 times more likely to get to school safely when taking a school bus instead of traveling by car, according to the National Highway Traffic Safety Administration.
And while school buses are designed to be safer than passenger vehicles, that doesn't mean children and parents don't need to do their part to keep students safe both in and around school buses.
Tips for a Safe Bus Ride
Parents—talk to your child about bus stop safety to ensure they have a safe ride. The American School Bus Council recommends the following tips:
At the Bus Stop
Arrive at the bus stop at least five minutes before the bus arrives
Stand six feet (or three giant steps) away from the curb while waiting for the bus
Getting On and Off the Bus
Wait until the bus has stopped and the door opens before approaching the bus or standing up on the bus
Use the handrails to get on and off the bus
Around the Bus
Work with the school bus driver or school administrator to coordinate pick ups and drop offs on the same side of the road as the child's residence

If that's not possible—Cross in front of the bus (never behind) and leave at least 10 feet (or five giant steps) between you and the bus

Make eye contact with the driver before crossing
If you drop something near the bus, do not pick it up; tell the bus driver instead
Reminder for Drivers
Each school year yellow buses wind their way through cities, towns and rural areas. It's critical for drivers to be extra cautious to ensure the safety of children boarding or getting off the bus. Here are five things to remember if you encounter a school bus on the road.
When you see yellow lights flashing on school bus, that signifies that it's preparing to have a child get on or off the bus; all vehicles behind the bus must come to a complete stop
On a two-lane road, traffic in both directions must come to a full stop when the lights are flashing red
On a four-lane road, traffic moving in the opposite direction must slow down and proceed with caution when either red or yellow flashers are present
Stop your vehicle at least 15 feet from the bus
Remain stopped until the flashing lights are turned off and the stop arm is pulled back in
How Schools Can Reduce Bus-Related Accidents
Each school district should develop and implement a comprehensive fleet safety program to reduce bus- and transportation-related accidents. The following items should be part of the program.
District Procedures—Including emergency response, contingency plan, student discipline guidelines and district expectations. These procedures and expectations should be communicated to all drivers, parents, teachers and students.
Driver Selection—This should include a thorough check of the applicant's motor vehicle record (MVR), references, previous employment and a background check. Job descriptions should also be developed for all transportation positions, stating the district's policies for minimum driver requirements, (i.e., CDL licensing, "S" endorsement, medical certificate, good driving history).
Driver Training—Including familiarization with state and local regulations, compliance with district safety procedures, ride-alongs for new drivers and regular in-service training. In-service training should include an overview of district procedures, an update of regulatory changes, discussion of current issues and a review of all accidents, incidents and citations.
Performance Evaluations—The district should check the MVRs of all drivers and evaluate each dirver's performance by either riding along or physically monitoring while following the vehicle annually. The district should also immediately investigate all accidents, citations and other incidents involving its drivers and provide corrective action as needed, (e.g., refresher training).
Daily Bus Route Evaluations—All daily bus routes should be initially evaluated for hazards and reevaluated annual to identify dangerous intersections, blind corners, steep grades and more.
Field Trip Procedures—Including rules for requesting the trip, using additional supervisory staff, planning the route and developing an emergency plan.
Vehicle Selection, Inspection, Maintenance and Repair—The National Transportation Safety Board (NTSB) discourages use of 15-passenger vans to transport students or staff. Instead, students should be transported on standard buses. Fifteen-passenger vans can be used to transport items other than students, but drivers should be trained to handle the rollover potential of this vehicle.

Safety features, such as structural integrity, crash protection, fire retardancy and emergency equipment should be considered before purchasing any vehicle. Drivers should perform and document daily vehicle inspections, and qualified maintenance personnel should fully inspect each vehicle ona regular basis. Vehicles should be immediately removed form service if any deficiencies are noted or repairs are needed. All maintenance and repairs should be documented.