Loss Control Insights for Schools
School Roof Management: Hiring Qualified Roofing Contractors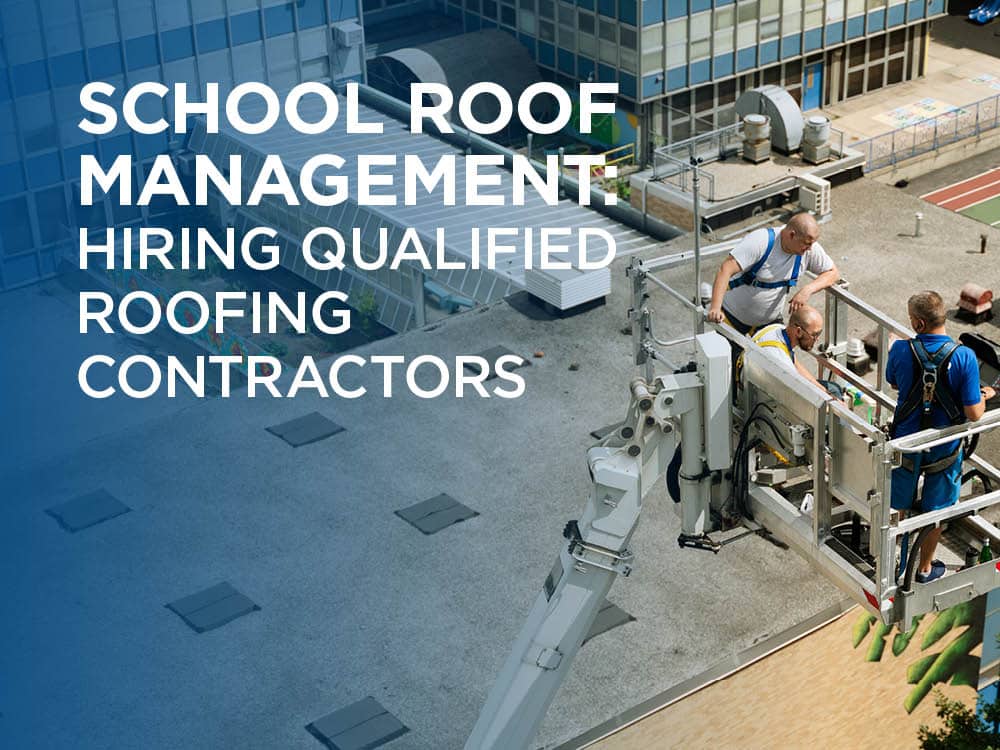 It's important to keep your roof in good condition. Neglecting your roof can result in an increased risk of wind and hail damage, lead to premature failure and can cause leaks, mold and indoor air quality issues. Roof material, climate and weather, building type and maintenance all have an impact on roof condition. Hiring a qualified roofing contractor is a good way to ensure your roof is protected.
How to Choose a Roofing Contractor
Choosing the wrong people to inspect and repair your roof can lead to accidents, as well as lower quality work. Working with a qualified roofing contractor will provide you with professional advice, high quality work and will ensure that safe work practices are followed. Your roofing contractor should be licensed, bonded and insured.
Licenses demonstrate that your contractor's business is legitimate. It proves that they've had enough training or hours to perform the job as required.
Bonded contractors have paid a bonding company to ensure they can afford all aspects of the job, including materials and subcontractors. If they can't finish the job, the company will send someone new.
An insured contractor covers their workers, so you don't have to worry. This is especially important because your homeowner's insurance might not cover contractors.
There are a few other things to consider when hiring a contractor.
Cost Estimates and Contracts
Before comparing bids and contractors, you should create a detailed project plan in order to set expectations and specifications for the project before public bidding. This way, you will know exactly what work needs to be done and can narrow down contractors based on their qualifications. It will also help you avoid missing steps or materials, which could be costly down the line.
While it is important to select a cost-effective bid, make sure your contractor has the proper experience, training and certifications for the project. Always get multiple bids and if they are willing, have the contractors perform an inspection before giving you an estimate. You should always request a pre-bid meeting, too. Contractors with a low price may not have as high quality of work, which can lead to roof damage or losses in the future.
Once you decide on a contractor, put your agreement in writing. When creating a roofing contract, be sure to include:
Roofing materials and projected costs
Payment outline and schedule
Timeline
All projects to be completed (removal, inspection, installation, etc.)
Plans for property protection and cleanup
One option is to create a cooperative purchasing contract. These can help you avoid long bidding processes and stay within your budget. Learn more about cooperative purchasing here.
Contractor Work History
It is helpful to know how long a contractor has been in business and if they have a history of quality work. You should request references, as well as ask about any broken contracts, lawsuits or legal proceedings they may have been involved in. Use references to learn about the contractor's work style, performance and any issues that arose.
Team Size and Skill Set
It's good practice to learn the size and skills of the contractor's team. A few questions you can ask are:
How many people are on your team?
How many team members work full-time?
Do you have insurance coverage and the correct license?
Are the team members qualified for this project?
Who is the primary contact person?
What is the estimated time frame for this project?
Will subcontractors be used?
While not uncommon, using roofing subcontractors can cause challenges. For example, building owners may not know who is actually doing the roof installation or maintenance, and therefore won't know their qualifications. It can also be hard to know a subcontractor's insurance coverage, training, safety records and legal status. To learn more about working with roofing subcontractors, visit Benchmark Inc.'s website.
Keep Records of Contract Work
By following these guidelines, you can find qualified roofing contractors and ensure quality roof installation and maintenance. Make sure you maintain records of any work or repairs done. These should include:
Names of contractors and subcontractors
Description of all work performed
Date the work was performed
Copies of all warranties
Contractor insurance certificates
Payment amount and method
You should also keep a copy of the original contract signed by all parties. Keeping records of contracting work will help keep you organized and ensure no future issues arise.
School Roof Management Tips
In addition to hiring a qualified roofing contractor, use the following tips for your school roof management needs:
Find the right time for roof installation and repair; school breaks and holidays allow for fewer disruptions. If you're planning for the summer of 2023, you should start the design and bidding process now.
Use contractors that have experience working on large roofs
Make sure your roof has moisture protection and proper ventilation
Inspect your roof at least twice a year, ideally in the spring and fall