Loss Control Insights for Schools
Your Playground Safety Checklist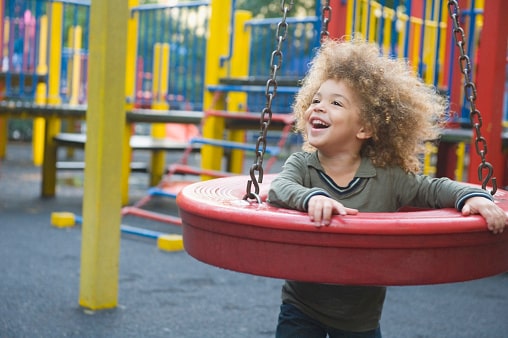 According to the Consumer Product Safety Commission, each year, more than 200,000 children ages 14 and younger suffer playground injuries serious enough to land them in the emergency room. As the weather warms up and outside play becomes more frequent, inspect your playground to make sure it makes the grade.
What Are the Safety Requirements of a Good Playground?
School playground safety starts with design, so you should only purchase playground equipment from manufacturers that meet guidelines and standards. But even the best-designed playgrounds can present hazards if equipment is incorrectly installed, broken, worn or damaged.
You can make outdoor play time fun and safe for students by inspecting playground equipment for possible hazards and following some simple playground safety guidelines.
Common Playground Hazards to Watch Out For
Improper playground surfaces—

Materials such as engineered wood fiber, shredded rubber mulch chips, sand or pea gravel, or mats made of safety-tested rubber or rubber-like materials are good surfacing choices that help protect kids in the event of a fall.

But these fill materials only work if they're deep enough to adequately disperse the force of impact. Surfacing should be at least 12 inches deep and extend at least 6 feet in all directions around stationary equipment. Additionally, fill materials can be displaced as kids play, so regularly check depth and rake back into place when needed. We recommend poured in place rubber playground surface, as you won't have to worry about fill material displacement. However, it is the most expensive type of playground surfacing.

Playgrounds should also be free of tripping hazards, such as exposed concrete footings, anchoring devices, rocks or tree stumps.

Overcrowded playground equipment—

The area under and around play equipment should be a minimum of 6 feet in all directions, with structures more than 30 inches high being at least 9 feet apart. When it comes to swings, make sure there is at least 24 inches between seats and no more than two seats in the same section of the structure. Swing set areas should also be twice the height of the suspending bar both in back and front of the swings (for example, if the top of the swing set is 10 feet high, the surfacing should extend 20 feet).

Unprotected elevated play areas on the playground—

Falls can be fatal, so it's important that platforms higher than 30 inches have guardrails or protective barriers, such as a hooded structure at the top of a slide. All stairs, steps and rungs should be evenly spaced, with round rungs being at least 1 to 1½ inches in diameter so small hands can easily grip them. Additionally, open slides should have sides at least 4 inches high.

Playground head entrapment spaces—

Openings between rails, bars, rungs and even ropes of cargo nets should be less than 3 ½ inches or more than 9 inches to keep a small child's head from getting trapped while preventing them from falling through easily.

Sharp points and edges on playground equipment—

When inspecting your playgrounds, look for broken equipment, wood splinters, rust, peeling paint, protruding nails or screws and other sharp points and edges.

Strangulation and entanglement risks on the playground—

The American Academy of Pediatrics cautions that children should not wear or play with anything that could get caught on equipment and become a strangulation hazard, such as jump ropes or necklaces. You should also watch for gaps in equipment, protruding bolt ends and "S" hooks with open or misaligned loops that can strangle a child if they catch on a drawstring or scarf.

Thermal burns from playground equipment—

Metal and plastic playground equipment can get very hot in the sun, causing serious burns to a child's hands and legs. Try to shade your playground or restrict certain play areas if they becomes too warm.
Playground Safety Guidelines
In addition to avoiding the common playground hazards mentioned above, make sure you have regularly scheduled preventative maintenance inspections. You should also be routinely, if not daily, checking your playgrounds to see that equipment and surfacing are in good condition.
Be sure to train your staff on playground safety standards and guidelines, as someone must be carefully supervising students anytime they're on the playground to help keep them safe. You may also want to consider using signage in play areas to provide guidance on age appropriateness of the equipment and playground rules.
Learn More about Playground Safety