Loss Control Insights for Schools
Chemistry Demonstration Safety: a RAMP Overview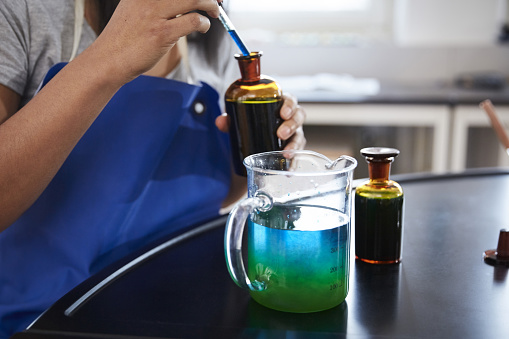 Lab work and teacher-led demonstrations are an important part of any chemistry curriculum. But even more important is ensuring the safety of everyone involved. Teachers must understand the risks associated with the experiments and demonstrations performed in the classroom.
Educational Value Vs. Risk in the Classroom
It's obvious why experiments and demonstrations are popular—they are exciting! But before you perform a demonstration or experiment, ask yourself these five questions. If you can't answer them or are unable to put the needed safety protocols in place, don't do it!
And if something starts to go awry during the planning or actual demonstration, don't hesitate to shut it down. When it comes to lab work and demonstrations, you should constantly be weighing the educational value against potential risks. For example, the fire risks of the Rainbow Demonstration far outweigh its education value.
What is the RAMP Chemistry Protocol?
If you incorporate experiments and demonstrations into your classroom, safety must come first. That's where RAMP, an acronym about lab safety, comes in.
Recognize the Hazard

The first principle of laboratory safety is to recognize the hazards of chemicals, equipment and procedures. This includes understanding the nature of the hazard—its chemistry, toxicological, and biological effects—and identifying physical hazards, such as electrical and mechanical hazards.

Assess the Risk

A key component of safety is defining the probability of harm or damage from a hazard. In other words, assessing the risks is when you identify how you might be exposed to a hazard, as well as what could result from that exposure. This includes preparation of the experiment, during the experiment and after the experiment. Safety data sheets (SDSs) are a great resource for identifying hazards of the chemicals you plan to use.

Minimize the Risk

This requires an evaluation of the entire experiment and a review of the chemicals used and produced, equipment, procedures and PPE. The following tips can help you minimize potential risks:

Research trusted sources to identify safe practices
Understand the limitations of PPE, chemical hoods and other safety equipment
Ensure no skin below the chest is exposed and wear splash goggles, lab coats or aprons, and appropriate gloves
Use appropriate waste containers when discarding chemicals

Prepare for Emergencies

Burns, cuts, spills, fires and other accidents happen. And procedures for handling these emergencies should be in place long before an experiment or demonstration takes place.

You should discuss emergency procedures with students—both in a general way and with regard to each experiment. Additionally, exits should be clearly marked with safety equipment (eyewash station, fire extinguisher, first aid kit, etc.) and PPE in working order.
Basic Chemical Demonstration Safety Resources
Always keep safety guidelines for chemical demonstrations in mind when planning a demonstration or lab work. For more specific guidelines, check out the resources below.
In addition to providing students with a set of guidelines, it's also important to have them (and their parents or guardians) sign a safety contract.
For more information on chemical safety check out the resources in the chemical safety topic or visit the National Science Teachers Association (NSTA) website.
It's Time to Discontinue the Rainbow Demonstration
There is no question that the Rainbow Flame Demonstration has the "wow" factor. It uses flammable solvents to show how different elements produce different colors of light when burned.
But the rainbow fire experiment also poses significant dangers to your students. This experiment has resulted in a number of student injuries. And the American Chemical Society Committee on Chemical Safety has repeatedly recommended it be discontinued, stating that highly flammable solvents should not be used in demonstrations or should be carried out only in a properly functioning chemical hood. Yet, some schools continue to allow it in the classroom.
The Flame Test
Luckily, there's a safer flame demonstration for the classroom with a similar effect—the Flame Test. Developed by the American Association of Chemistry Teachers (AACT), this safer version of the Rainbow Demonstration contributes to their understanding of:
Energy
Electromagnetic Spectrum
Atomic structure
Atomic spectra
Electrons
Visible light spectrum
Watch this video and view the instructions for more information. And if you plan to perform the Flame Test in your classroom, keep these safety guidelines for chemical demonstrations in mind and check out the additional resources below.
Additional Chemistry Demonstration Resources