Loss Control Insights for Schools
Keeping Food Service Safe Amid COVID-19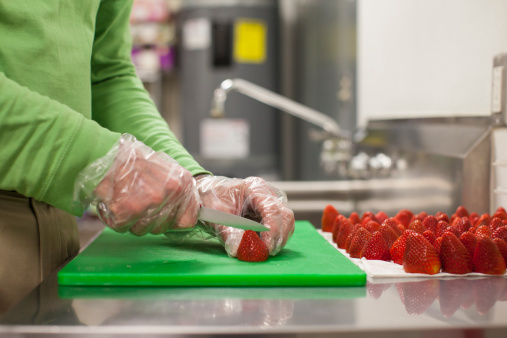 Schools across the country are closed in order to help stop the spread of COVID-19. While some kids might be celebrating their time off, others are struggling with hunger. To support students during these unprecedented times, some schools are continuing to provide food services since guidelines at the city and state level recognize delivery and takeout food as a safe practice.
School Safety Measures
While there is no evidence to support that the transmission of COVID-19 is associated with food, schools should enact even stricter food safety measures than those that were in place prior to COVID-19. By applying social-distancing guidelines and kitchen diligence, you can confidently provide needed food services. Here are some steps you can take to keep students and their families safe:
Avoid direct handoffs if you can—Limited contact is important to stop the spread of COVID-19 so leave meals on doorsteps when delivering. If students or parents are picking up meals at a common location, tell parents to remain in their cars and deliver the food through the car window or place it in the trunk.
Follow social distancing guidelines—Make sure staff are following social distancing guidelines (at least six feet apart from each other) during food prep and distribution.
Do not provide utensils—Providing utensils creates unnecessary contact with nonfood items and increases the chances of spreading the virus.
Commit to food safety—Following safety guidelines will prevent the spread of COVID-19, as well as food poisoning. Make sure everyone is wearing food prep gloves while handling food.
Increase personal hygiene awareness—Try placing posters or fliers that promote proper hand-washing techniques in kitchens, bathrooms and other common areas. Provide reminders of the importance of frequently washing hands for at least 20 seconds. Staff should also be reminded to avoid touching their face.
Guidelines for Families
Advise your students and their families to leave the outermost bag on their doorstep (to throw away at a later time) and carry just the containers inside. They should then wash their hands before transferring the food from the to-go containers onto their own dishware. Hands should be washed again prior to eating. Once done eating, all containers and packaging (including outermost bag) should be disposed of, dishes should be washed, and the table and counters should be cleaned and sanitized.