Loss Control Insights for Schools
A Guide to Hiring Safe Drivers in Your School District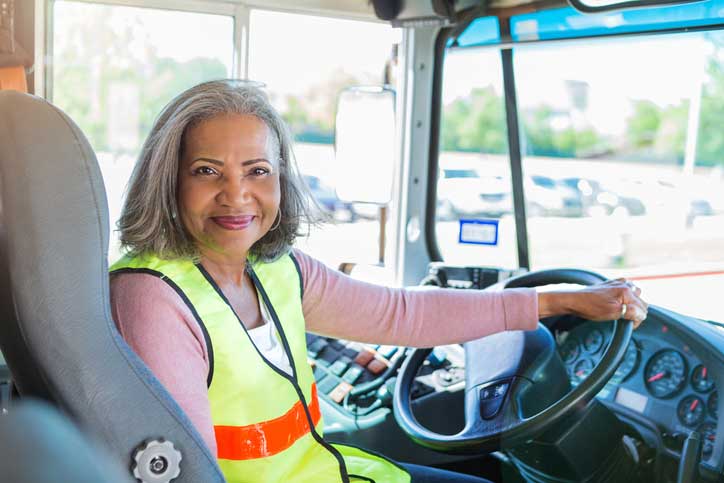 School drivers take on all the normal risks of the road—from heavy traffic to aggressive or distracted drivers to inclement weather—plus the task of keeping schoolchildren safe. Make sure your students are in the care of the safest and most qualified drivers by setting firm driver qualification criteria.
Establish Requirements
Formal hiring guidelines help ensure that each driver has been vetted properly and consistently. EMC recommends the following minimum requirements:
At least 21 years old
At least three years of licensed driving experience
Is physically and mentally competent
Has a driver's license appropriate for the vehicle to be driven
Satisfactory MVR review and background checks
Check the MVR
Past behavior is a good indicator of future behavior, so you should always perform a motor vehicle records (MVR) review for all potential drivers. You should also perform an annual review for all current drivers. In addition to bus drivers, be sure to review the MVRs of any coaches, teachers or other district staff members who drive a vehicle as part of their job.
Checking your drivers' MVRs can reveal any type of moving violations, as well as insurance lapses, license revocations and DUI charges. Drivers who habitually speed, tailgate or who have a history of vehicle accidents are statistically more likely to be involved in preventable accidents in the future. When reviewing a driver's MVR, look for the following:
Has not been convicted of any of the following violations within the past five years:

Driving under the influence of alcohol and/or drugs
Open container
Reckless driving
Speeding 15 miles per hour over the posted speed limit
Vehicular manslaughter
Using a vehicle to commit a felony
Hit and run/leaving the scene of an accident
Fleeing/eluding police or resisting arrest
Operating a vehicle with a suspended or revoked license
Passing a stopped school bus
Railroad crossing violation

Has not experienced any of the following within the previous three years:

Two at-fault accidents
Three moving violations
Two moving violations and one at-fault accident
Tested positive for drugs or alcohol while employed by the district
Your state may have additional rules, so be sure to check the legal requirements for your area.
Create Onboarding Policies
You may want to consider an onboarding program that requires drivers to do extensive training on the road and at your facilities, so they can practice their routes and know where all the stops are. Your onboarding program should also cover your basic expectations, such as always wearing a seat belt, obeying traffic laws and avoiding any kind of distracted driving.
Make a List
Keeping track of your qualified drivers is much easier if you maintain a list. Include the following information:
Driver name
Driver license number
Driver license type(s)
Endorsements
Date of hire
Date of last MVR check
Date of driver trainings
Dealing with Unacceptable MVRs
Drivers should be immediately suspended if they have an unacceptable MVR. Notify the employee that they cannot drive a school vehicle until they once again meet driving history standards. Make sure your employees know they are expected to maintain a driving record that reflects good driving habits. They should also be aware that they are expected to immediately report any citations or revocations to their supervisor.
Get Help from EMC
EMC has partnered with SuperVision to offer EMC policyholders a discounted rate on a driver monitoring program. If you subscribe, you'll receive an alert any time one of your drivers receives a violation, even those occurring during nonwork hours or in a personal vehicle. For just a few dollars per driver per month, you'll be able to stay on top of all violations for all of your driving employees.