Loss Control Insights for Schools
Tips for Preventing Electrical Equipment Failure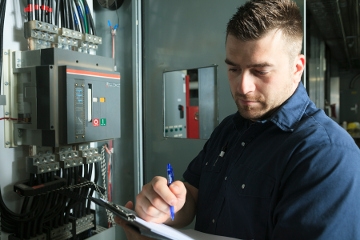 Did you know a typical electrical equipment breakdown can cost a school district more than $30,000? Schools have a lot to worry about when it comes to safety and loss control. Between security, student safety, and slip, trip and fall concerns, it's easy to overlook your electrical distribution system.
But take a minute to think about how much your district needs electricity to function. You need it for lighting, heating, cooling and refrigeration – and for operating appliances, electronics and machinery. The electrical system is arguably the most critical system because without it, the school can't really function. And now that many school buildings are closed, it's even more important to check in on your electrical equipment.
Primary Causes of Electrical Equipment Failure
In order to prevent electrical system failures, it's important to have an understanding what can cause failures in the first place. Our partners at
Hartford Steam Boiler (HSB)
have found that the main causes of electrical equipment failures are:
Loose connections or parts
Moisture
Power line disturbance
Defective or inadequate insulation
Lightning
Foreign object or short circuits
Collision
Overloading or inadequate power capacity
Accumulation of dust dirt or oil
Prevent Electrical Failures with Maintenance
Preventative maintenance has been proven to significantly reduce the frequency and severity of electrical failures. This is especially important in older school buildings where aging electrical systems may require extra attention. Here are four basic maintenance objectives that are easy to remember.
Keep it clean
Keep it cool
Keep it dry
Keep it tight
By keeping your electrical equipment clean, cool, dry and tight you can address two-thirds of failures.
How to Keep Your Electrical Systems Clean
Keeping your electrical system clean helps prevent failures caused by foreign objects, short-circuiting, and accumulation of dust, dirt and oil. Here are some tips:
Keep electrical equipment and rooms free of excessive dust and dirt
Don't use electrical equipment rooms for storage
Make sure only authorized operations and maintenance personnel have access to the electrical system
Maintain proper lighting to ensure correct and efficient operation and maintenance
How to Keep Your Electrical Equipment from Overheating
Ensuring your electrical equipment is kept cool helps to prevent failures caused by defective or inadequate insulation. Follow these suggestions:
Prevent excessive heat buildup in electrical apparatus enclosures and equipment rooms
Maintain the cooling fans or blowers installed on equipment
Keep ventilation openings in equipment enclosures clean and unobstructed
Change or clean any filters according to the manufacturer's recommendations
How to Keep Water Out
Moisture issues cause 17.4% of electrical equipment failures. If moisture is found on or near electrical equipment, first inspect the equipment for damage. If any issues are found, make the necessary repairs. Then identify and eliminate the source of the moisture.
Keep it Tight
Loose connections are the most common source of electrical equipment failure, causing over 30% of unexpected outages. To help prevent these issues:
Check all connections periodically and ensure they are tight
Follow any applicable manufacturer's instructions for tightening
Get an infrared imaging survey to test for loose connections
Where to Begin
Regular and routine maintenance is clearly important to make sure your school's electrical equipment continues to function. However, all maintenance should only be performed by a qualified and competent person to ensure it is done safely, properly and effectively.
For more information check out these resources.