Loss Control Insights for Schools
3 Products To Help Prevent Slips and Falls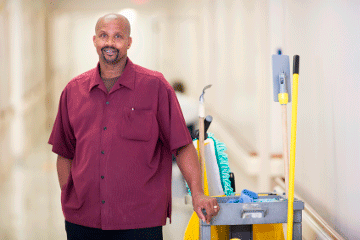 Summer is a great time to take a look at your district's slip and fall prevention procedures for areas that may need improvement. Slip and falls are consistently a top loss driver for schools, causing injuries, lost work days and even death. Fortunately, there are a several products on the market that can assist you in lowering the number of slip and fall incidents in your district. Of course none of these products can replace the benefits of a comprehensive slip and fall prevention program.
Scraper/Wiper Mats
Having a mat maintenance program is an important part of any effective slip, trip and fall prevention program. Effective entrance matting requires a three-prong approach, using outdoor scraper mats, combination scraper/wiper mats and indoor wiper mats.
Scraper mats
are placed in front of building entrances. These mats clean shoes to prevent mud, slush and other pollutants from entering your building. Scraper mats should have high traction and a low profile. Combination
scraper/wiper mats
are placed directly inside and are designed to perform both a scraping and moisture wicking action.
Wiper mats (walk-off) mats
come next and are designed to capture any remaining dust and moisture from shoes. Be aware that some mats tend to slide or buckle when walked on, which can create tripping hazards. Pressure sensitive adhesive or edge taping can help. There are some
low-profile wiper mats
on the market with adhesive on the back to help keep it in place. These disposable mats can be placed directly next to doors, are highly absorbent and can prevent trips due to their lack of shifting and buckling.
Indoor Floor Traction Treatments
Slippery floors can cause all sorts of slip and fall trouble for schools.
Anti-slip floor treatment
products are available to make stone floors, including porcelain, ceramic, quarry and terrazzo, much safer. These products are typically applied with a mop and provide dramatically better traction under wet conditions. Once applied, their effect on slips and falls can last for years.
Stair Tread Covers
Stair steps with damaged or noncontrasting stair treads can cause mis-steps and falls, especially on the leading edge of the step. By installing high traction, visibly contrasting stair tread covers you can make it less likely that someone will miss a step. There are
stair tread covers
available for both indoor and outdoor use. Many of the
products available
on the market simply mount onto existing steps. Look for stair tread covers that are heavy duty, so they will last under heavy foot traffic.
More Slip and Fall Resources
Looking for more help improving your slip and fall prevention efforts? Check out our
Slip and Fall Prevention Guide
for photos of common slip and fall problems and solutions, or read up on some additional
floor
and
sidewalk
maintenance tips.