Loss Control Insights for Schools
Driver Qualification for School Drivers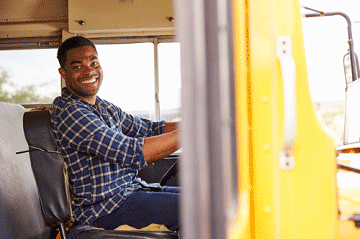 Schools have a responsibility to ensure the safety of their students and the public by hiring safe drivers. One of the best ways to do this is to establish firm driver qualification criteria. Part of this criteria should include a motor vehicle records review for all potential drivers and an annual review for all current drivers.
Driver Criteria
Formal hiring guidelines are crucial to ensure every driver has been vetted properly and consistently. EMC recommends the following minimum requirements:
At least 21 years old
At least three years of licensed driving experience
Is physically and mentally competent
Has a driver's license appropriate for the vehicle to be driven
Satisfactory MVR review and background checks
Check the MVR
Past behavior is the best predictor of future behavior. Checking your drivers' MVRs can reveal any types of moving violations as well as insurance lapses, license revocations and DUI charges. Drivers who habitually speed, tailgate, fail to use equipment properly or who have a history of vehicle accidents are statistically more likely to be involved in future preventable accidents.
All school drivers should have their MVRs reviewed before they drive a school vehicle and annually thereafter. Besides bus drivers, be sure to review the MVRs of any coaches, teachers or other district staff who drive a vehicle as part of their job.
When reviewing a driver's MVR, look for the following:
Has not been convicted of any of the following violations within the previous five years:

Driving under the influence of alcohol and/or drugs
Open container violations
Reckless driving
Speeding 15 miles per hour over the posted speed limit
Vehicular manslaughter
Using a vehicle to commit a felony
Hit and run/leaving the scene of an accident
Fleeing/eluding police or resisting arrest
Operating a vehicle with a suspended or revoked license
Passing a stopped school bus
Railroad crossing violation

Has not experienced any of the following within the previous three years:

Two at fault accidents
Three moving violations
Two moving violations and one at fault accident
Tested positive for drugs or alcohol while employed by the district
Your state may have additional requirements, so be sure to check the legal requirements for your state.
What to do if an MVR is Unacceptable
Drivers should be immediately suspended if they have an unacceptable MVR. Notify the employee that they cannot drive a school vehicle until their MVR becomes acceptable. Make sure your employees know they are expected to maintain a driving record that reflects good driving habits. They should also know they are expected to immediately report any citations or revocations to their supervisor.
Get Help from EMC
EMC has partnered with
SuperVision
to offer EMC policyholders a discounted rate on a driver monitoring program. If you subscribe, you'll receive an alert any time one of your drivers receives a violation, even those occurring during nonwork hours or in a personal vehicle. For just a few dollars per driver per month, you'll be able to stay on top of all violations for all of your driving employees.