Loss Control Insights for Schools
Prevent Winter Slips and Falls: 9 Steps to Take Before the Storm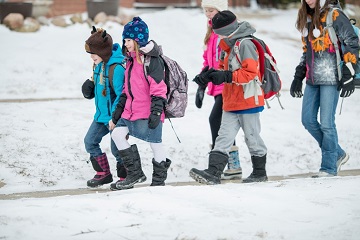 Slips, trips and falls are year-round problems for schools, but they are a bigger issue in the winter. And while someone slipping on ice may seem funny in viral videos, the injuries that can result are not. Preparing your district ahead of time can help keep students, staff and visitors safe.
Inspect for Damage

Most slips and falls happen outdoors. So it's important to inspect your parking lots and sidewalks for cracks, potholes and damage and repair these areas before winter hits. These damaged areas can be hidden by snow or can collect water, which can freeze and lead to a slip and fall accident.

Don't forget to make sure all your handrails are properly mounted with at least a 3-in clearance between the handrail and the wall.

Eliminate Hazardous Drainage

Make sure downspouts from the roof are not discharging across walking surfaces. This causes wet and icy sidewalk conditions. Instead, channel the runoff underneath a walkway or away from sidewalks.

Plan for Snow and Ice Removal

Discuss your snow and ice removal plan ahead of time with your in-house staff or snow-removal contractor. Outline when and how often snow should be removed (we recommend after 1-in of accumulation) and identify a piling area away from walking routes.

Be sure to verify that all contractors have liability insurance coverage. If your employees will be removing the snow, give them the right equipment for the job, such as insulated slip-resistant boots, gloves and snow removal equipment.

Inspect Walking Surfaces Frequently

Choose a few staff members to check walking surfaces during the winter and set up reporting procedures. Use an inspection checklist to make sure all areas of concern are inspected regularly.

Choose a Weather Monitor

Have someone on staff track the weather. If a bad storm is coming, warn your employees of potential slippery conditions.

Think About Proper Footwear

Encourage your employees to wear slip-resistant footwear every day, but especially before a winter storm hits. Avoid spiked heels, leather soles or shoes with little or no traction. Shoes with rubber soles, flat heels and multi-channel tread do a much better job of preventing a slip, trip or fall.

Pretreat Your Sidewalks

Apply a liquid ice control product to your sidewalks before the storm arrives. This can help prevent snow and ice from bonding to the surface.

Be Mindful of Mats

Place scraper mats on the outside of you building and water-absorbent mats inside each building entrance. Instruct your maintenance staff to ensure all mats are in good condition with no curled or torn edges, worn face material, or cracks. Create a plan to rotate and clean your mats to extend their usable life.

Encourage Employees to Help

Place drums of ice melt and shovels to encourage employees to take care of any slippery spots they notice.

All ice melts are different. Make sure you have the right type on hand and read the directions ahead of time, so you don't apply too much. Below is a table with common ice melt products, their temperature rating and cost per pound.
| | | | |
| --- | --- | --- | --- |
| Ice Melt Name | Composition | Temp Rating | Cost/lb. |
| Ice Melt - Rock Salt | Sodium Chloride (rock salt) | 15° | $0.12 |
| Rapid Melt | Sodium & Magnesium Chloride | -5° | $0.16 |
| End Ice | Sodium, Potassium & Calcium Chloride | -10° | $0.28 |
| Path Maker | Sodium, Magnesium & Calcium Chloride | -20° | $0.25 |
| Vanquish | Calcium Chloride (90%) | -25° | $0.34 |
After the Storm
After a winter storm, clear parking lots and sidewalks before staff members arrive. Continue to monitor them throughout the day. Be sure to perform walkway audits to identify areas of snow and ice buildup.
Apply coarse sand or oil absorbent on wet or icy areas. Monitor the floors for puddles and mop up water immediately. Replace saturated mats or dry them with a wet vacuum or extractor.
Encourage your staff to report areas where water has pooled inside and be sure to clean those slippery areas up quickly.