Loss Control Insights for Schools
School Bus Winter Driving Safety Tips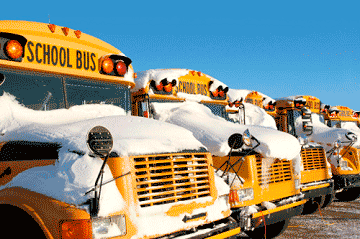 With winter weather fast approaching, now is the time to get your school buses and drivers ready. Check out these tips to help keep your staff, students and the public safe this winter.
Plan Early
Think about what procedures need to be in place to make sure students can get to and from school safely in the winter. This may include:
Developing alternate routes/snow routes
Establishing earlier start times for drivers
Creating policies for late starts and cancellations
Forming policies and procedures for disabled vehicles
Developing severe weather communication protocols—such as using a phone or email system to notify when a bus is running behind schedule—for bus drivers, students, staff and parents/guardians
Train Your Drivers
Ensure all drivers are provided specialized winter driving training. This training should cover the following topics:
Adjust Your Speed – Slow down on wet, snow-covered or icy roads
Watch for Ice Patches – Condensation freezes in shaded areas, on bridges and on overpasses before the rest of the roadway, so pay special attention to these areas
Follow at a Safe Distance – Increase following distances to five or six seconds (instead of the usual four)
No Sudden Movements – Gently accelerate and brake; slamming on the brakes can lock the wheels and throw you into a dangerous skid
Prepare Buses for Winter Conditions
All buses should be equipped for winter weather prior to the start of the season. Keep the following best practices in mind as you prepare your fleet for winter.
Make sure all tires have sufficient tread or switch to winter snow tires
Test all batteries
Install new windshield wipers
Ensure all lights are functional
Add brake line antifreeze
Use a rain repellent on outside glass surfaces to reduce snow and ice adhesion
Use an anti-fog product on interior glass and mirrors
Keep kitty litter or oil absorbent on hand for emergency traction
You may want to consider some winter upgrades such as heated mirrors and wiper blades, heating strips installed opposite the wiper's parked position, automatic tire chains or automatic sand/gravel dispensers.
Winter Pre-Trip Inspections
Pre-trip inspections are always important, but they are especially important during winter months. Complete the following tasks during all pre-trip inspections:
Clean snow and ice buildup from windows, mirrors, lights and stop arms
Check the wiper blades and washer fluid levels
Check the heater and defroster units to make sure they are working properly
Make sure tires are properly inflated
Keep fuel level as close to full as possible
Check for road and weather conditions
If any defects are noted, they should be addressed before the driver begins the route.
Prevent a Slip
It's easy to slip and injure yourself when entering or exiting the bus. To help prevent injuries, keep the bus clear of snow and ice, especially the steps. Consider installing step tread heaters on your buses or keep a spray bottle of brine handy for spot treatment. Wear shoes or boots with a high traction outsole and use three points of contact when entering or exiting the bus.