Loss Control Insights for Schools
Three Classroom Slip and Fall Hazards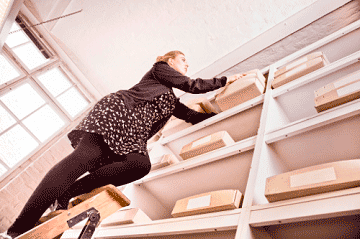 Slips, trips and falls are a leading cause of injury in schools, causing sprains and strains, broken bones and time away from work. Follow these three simple tips to prevent slip, trip and fall hazards in your classroom.
Take Care of Cords
Don't run cords across walkways or in areas where someone's foot could become entangled in the cord. Add additional outlets in areas where they are needed. If adding outlets is not possible, use a tread guard to cover the cord or secure it to the floor. Arrange workstations with electronics against a wall to eliminate cords that cross walkways. Roll and store extension cords when they are not in use.
Clear the Clutter
Keep all aisles clear of boxes, clutter and other materials. Backpacks should not be left in areas that could cause someone to trip. Instead, have students place backpacks on the back of their chairs or in a designated area. Be sure to keep all of your cabinets and drawers organized and closed.
Use a Ladder
Remember, chairs and desks are not ladders. If you need to reach something in a high place or hang a poster higher than you can reach, use a ladder or a step stool or ask a custodian for help. It's always best to wait for the proper equipment rather than risk injury to get a job done quickly.