Loss Control Insights for Petroleum Marketers
Precautions Convenience Stores Can Take to Stay Safe Amid COVID-19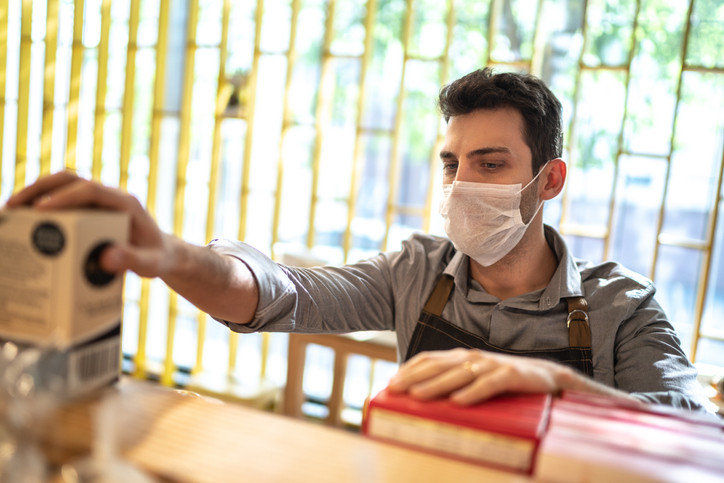 Many food retailers, including convenience stores, are taking extra precautions to keep workers and customers safe. In addition to recommitting to food safety and personal hygiene, there are many steps you can take to prevent the spread of COVID-19.
Clean and Sanitize
Increase the frequency of disinfecting high-touch surfaces throughout the stores. If surfaces are visibly dirty, clean them prior to disinfecting. Surfaces and areas to routinely clean and sanitize include:
Break rooms
Carts and baskets
Cash registers
Countertops
Displays
Door handles
Drink stations
Food prep equipment
Fuel pumps
Payment terminals
Phones and intercom systems
Reach-in refrigerators
Restrooms
Shelving
Tables
Be sure to follow the directions on the cleaning product's label and wash hands afterwards. To disinfect, use products that meet EPA's criteria for use against COVID-19.
Post Signage
Visible reminders for customers and employees can keep safety guidelines, such as maintaining distances of six feet from others, top of mind. You can also provide checklists to help employees follow proper safety procedures and display posters that encourage staying home when sick and practicing good hand hygiene. Other visual cues to consider include:
Digital messages, such as website updates or targeted emails, about your efforts
Floor decals or signs to indicate where customers should stand during check out
Arrow decals or signs that direct the flow of traffic
In addition to physical signage, you can make announcements over your speaker system to remind employees and customers to maintain safe distances and follow arrows.
Maintain a Distance
Take measures to separate and increase distances between employees and customers, such as:
Place see-through barriers or partitions in checkout lanes
Use every other check-out lane
Move the electronic card reader farther away from the cashier
Shift primary stocking activities to less busy times or after hours
Rearrange chairs and tables in break rooms to support social distancing
Provide remote shopping alternatives like delivery or pick-up and set up designated pick-up areas
Limit the number of customers allowed in the store at one time
Protective Equipment
Encourage workers to wear plastic or vinyl gloves while cashiering. These gloves should be changed often. Additionally, the CDC recommends wearing cloth face coverings over the mouth and nose as they may prevent people who don't know they have the virus from transmitting it to others.
Other Hygienic Precautions
You may want to consider encouraging customers to use touchless payment options when possible. And when handling money is unavoidable, ask customers to place it on the counter rather than directly in the cashier's hand. Similarly, cashiers can place change on the counter rather than directly in the customer's hand.
Many convenience stores are also temporarily discontinuing the use of reusable items such as refillable mugs/cups and tote bags.
Business Practices
There are many precautions you can take behind the scenes to keep your employees and customers safe:
Offer a way for employees to voice concerns anonymously
Implement flexible sick leave and supportive policies and practices
Create a rotation so cashiers can regularly leave their station to wash their hands
Consider limiting business hours to perform frequent deep cleans
EMC has collected a variety of COVID-19 resources to help you manage this situation. And as always, follow all applicable local, state, and federal regulations and public health agency guidelines.