Loss Control Insights for Petroleum Marketers
Fuel Delivery Fails: 3 Ways Your Fuel Delivery Could Go Wrong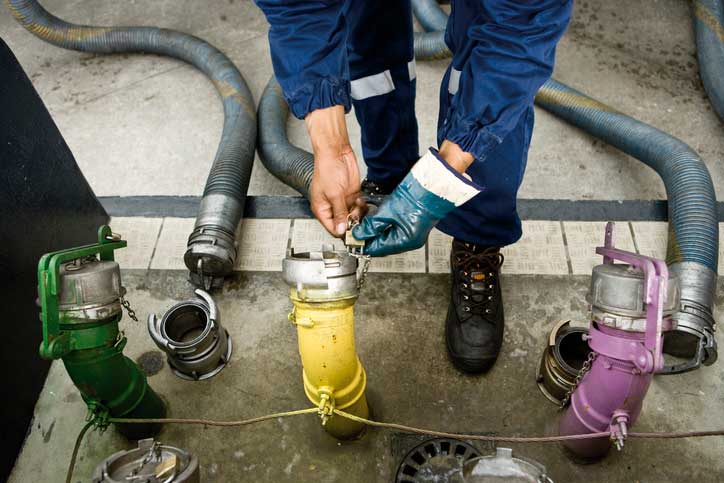 Mishaps during fuel delivery tend to be expensive, but most of them are preventable if your drivers are following industry best practices. Here are three of the most common ways that deliveries can go wrong and some tips for avoiding them.
Fuel Fail: Delivering to a Tank That's No Longer There
As consumers have migrated from fuel oil to propane for home heating, many have removed their unused basement fuel tanks. But if the oil lines on the outside of the house aren't capped or cemented closed, it may not be obvious to a delivery driver that the fill spout leads directly to the open basement. Or sometimes there is a tank at the end of the line, but it's in poor condition and likely to leak oil once filled. Depending on the amount and type of fuel released, accidentally contaminated homes may require extensive environmental remediation or even demolition.
Help prevent deliveries to inadequate or non-existent tanks by conducting annual indoor tank inspections and requiring drivers to double-check the product and location on the delivery ticket before they begin filling.
Fuel Fail: Dropping the Wrong Product in the Tank
Filling up a tank with the wrong type of fuel could put an entire fleet of vehicles out of commission while racking up a lot of expenses. To avoid misdelivering fuel at a convenience store or other multi-product location, connections should be identified clearly by product (we like color coding and written labels). Clear labeling on fill connections is especially important as more deliveries are completed by a common carrier, which may send a different transport driver each week who is unfamiliar with the facility's setup. Remember, brokering fuel to a common carrier doesn't get you off the hook if there's a mistake—that customer is still going to call the fuel provider for a fix, so it's up to you to get the delivery right in the first place.
Fuel Fail: Overfilling a Tank or Unintentionally Spilling Fuel
Spilled fuel—even a small amount—can be a big deal if it's not handled correctly. Start by making sure delivery rates are limited to the tank vent capacity to reduce the chance of a spill or tank rupture. Drivers should also double-check the purchase order and stick the tank to ensure they aren't overfilling.
In the event of a small spill, drivers can usually clean it up quickly and easily by spreading a sorbent material on any free liquid that can't be pumped up. Make sure your drivers are prepared for spill response by stocking trucks and bulk plants with spill response kits, protocols for containing a spill and a list of emergency phone numbers.
Find More Online