Loss Control Insights for Petroleum Marketers
4 Ways to Prevent Winter Slips with Floor Mats (updated November 2021)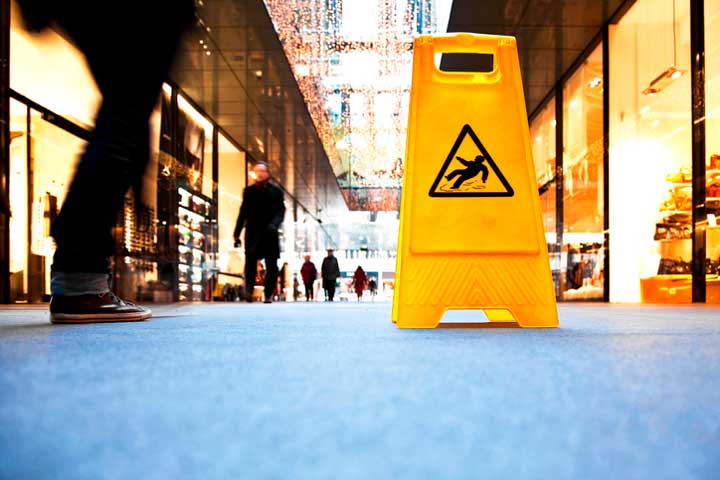 Icy and snowy conditions can easily lead to slips, trips and falls—both outdoors and indoors. Consider floor mats your first line of defense in preventing these types of incidents on your premises. With proper selection, usage and maintenance, floor mats will help your customers and employees stay safe. Keep the following in mind as you prepare your floor mats for winter.
Choose the Right Kind of Mat to Prevent Slips
Whether you rent or own your floor mats, selecting the right variety is key. Mats with a slip-resistant backing are preferable, because they're less likely to shift or bunch. To get the same effect on existing mats, spray a thin layer of pressure-sensitive adhesive on the underside.
Depending on budget and preference, you could opt for disposable, adhesive-backed mats that can be cut to size and don't buckle, or high-performance mats that last longer and perform better. You can also add water-absorbing mats in areas prone to drips and spills, like water fountains and drink dispensers.
Make sure to have spare mats as well. Wet or worn mats will need to be changed out for fresh ones.
Pick the Best Place for Floor Mats
Building points of entry should have three lines of defense: a scraper mat, a combination scraper/wiper mat and additional wiper mats as needed. Each of these mats is critical to preventing water and dirt being tracked into buildings.
Scraper mats help remove snow, slush and dirt from shoes. Combination scraper/wiper mats remove excess moisture, while additional wiper mats catch remaining contaminants. The walking distance across these entrance mats should be 20 feet at minimum. All mats should create a smooth, level walking surface with minimal gaps and overlaps. Use pressure sensitive adhesive or edge taping to secure mats in place.
Maintain Your Mats
Floor mat maintenance is not a one-off event. It must be kept up consistently to make sure mats don't become hazards themselves. Establish a routine for checking your mats. EMC recommends daily inspections, as well as more frequent ones for heavy traffic areas. Snowy, wet conditions also warrant more vigilant inspections.
Inspection checklists can help your employees understand what to look for when reviewing mat placement and condition. Potential hazards include curled or torn edges, worn face material, buckling, soiled or saturated mats and mats that are out of position. Employees should know how to report these unsafe conditions and respond to them.
Know How to Clean Floor Mats
During colder weather, people entering the building bring in ice melt residue, snow, sludge and other debris on their shoes. Regular cleaning helps keep mats in top condition. Mats should be vacuumed to remove surface debris or extracted to remove excess water. They should also be deep cleaned routinely with a commercial carpet extractor to protect the backing and extend their life and performance.
Find More Online: