Loss Control Insights for Petroleum Marketers
Get a Grip: Improving Floor Traction to Prevent Falls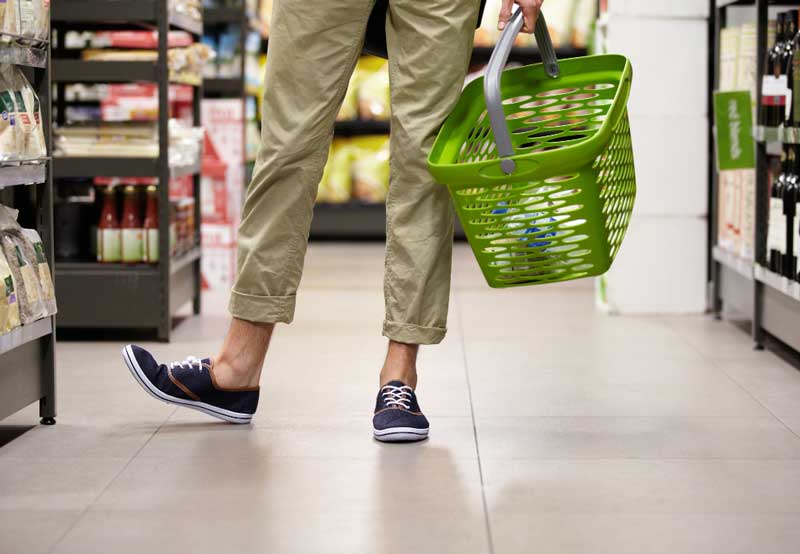 Slips and falls are one of the most frequent causes of injuries in convenience stores, both for employees and customers. Many of these slips are caused when there is too little traction (or friction) between your foot and the walking surface. This summer, help everyone get a grip with these tips for increasing your floor's traction.
Place Mats Strategically
Scraper mats placed in front of building entrances help prevent moisture and dust on shoes from entering the building. Combination scraper/wiper mats placed directly inside the entrance provide another layer of protection and prevent remaining contaminants on shoes from coming into your store.
Place additional mats at moisture-prone areas throughout the store. For instance, use a slip-resistant or water-absorbent mat in front of drink dispensers to help prevent slips and falls caused by daily spills.
Monitor your mats to make sure they don't become a hazard themselves. Change out saturated mats for dry ones and replace those with a worn top, upturned edges or areas that bunch. To prevent employees or customers from tripping on a mat that's loose or shifted, use pressure sensitive adhesive or edge taping to secure your mats in place.
If you rent your mats, consider switching to adhesive-backed disposable mats. This new option can be purchased in rolls, adheres to the floor and can be cut to the desired size. If cared for properly, these mats can last for three months and end up paying for themselves.
Clean Floors Consistently
Train your employees on proper cleaning procedures, and follow a regular cleaning schedule to ensure this task remains a priority. Remove loose debris with a broom, vacuum or dust mop before you apply any cleaning products to avoid damaging your floor's finish. Consult the flooring manufacturer to make sure you are using the right cleaning chemicals and methods for your specific floor type. Our favorite cleaning method includes a small extractor with a bristle brush which scrubs the floors. This removes the layer of slippery emulsification that might be coating your floors, and leaves the surface virtually dry.
Regardless of the cleaning method you choose, follow the instructions and avoid the temptation to use extra cleaning product. Using too much cleaning solution can actually make floors more slippery. You should also give floors a good rinse before the cleaning solution dries. Abide by this rule of thumb when cleaning your floors: what goes down must come up.
Exercise extra caution in food preparation areas where grease and liquid could pose a hazard. Besides general spills and drips, employees often overspray products such as cooking spray which make floors very slippery. Immediately wipe up spills and place wet floor signs to alert others about a hazardous area.
Keep employee areas free of debris, and monitor aisles for abandoned objects. Keep walkways clear to avoid customer falls and do not set up displays or stack product below knee-level, especially at blind corners and end cap displays.
Treat Surfaces that Might Be Slippery
Controlling moisture and cleaning your flooring appropriately should be very effective at preventing slips and falls, but for areas that continue to be slippery when wet you may want to consider an anti-slip floor treatment product. These products invisibly increase traction in wet conditions, and you can apply them yourself. An application can last up to 5 years. Be sure to follow the manufacturer's directions on reapplication.
For mineral-based floors like ceramic or quarry tile, popular treatment products offered by Slip Doctors or No Skidding come at a relatively low cost. The same companies also offer mop-on treatments for vinyl or resilient floors.
Treating slippery surfaces doesn't end at your store's doors. Curbs painted yellow for high visibility can be surprisingly slippery and dangerous for customers and employees entering your store. To help prevent slips and falls on painted concrete, add a mineral aggregate to the painting process.
Need some help getting a handle on slips and falls at your store locations? EMC loss control representatives can analyze the traction of your floors, spot potential hazards and help you identify the best floor maintenance procedures. Schedule a slip and fall risk assessment at your facility by contacting your independent insurance agent or local EMC loss control representative, or by emailing losscontrol@emcins.com.
Find More Online