Loss Control Insights for Petroleum Marketers
Duty to Warn: 4 Steps to an Effective Program (updated September 2021)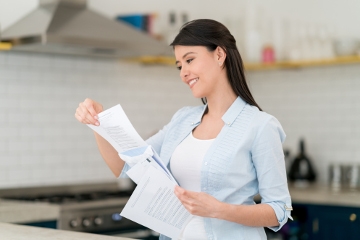 Propane gas is a hazardous material. As a propane professional, you know that very well. But it's likely that your customers don't fully realize the dangers of propane. That's why "duty to warn' has become an industry standard.
What Is Duty to Warn?
Duty to warn is a risk mitigation method of propane professionals. Simply put, it is your responsibility to provide your customers with the information they need to recognize and avoid hazards associated with the product you deliver. This includes providing information on the proper use and storage of propane, as well as how to detect a gas leak.
Why Is It Important?
This industry best practice provides protection for your customers and employees and can significantly reduce the risk of propane-related accidents. In addition to possibly saving lives, fulfilling your duty to warn may provide your company with legal protection should a residential or commercial propane accident occur—potentially saving your company a significant amount of money due to costly litigation.
How to Develop a Duty to Warn Program
An effective duty to warn program with accurate documentation can help protect your customers and build your reputation as a responsible propane dealer. Don't know where to start or not sure if your current duty to warn program is adequate? Below, we outline the four most important components that every duty to warn program should include.
Put it in writing

—Send your customers information on the hazards of propane. Make sure it includes tips for recognizing a propane leak (scratch and sniff cards are a great way to do this), instructions on how to respond to a leak, information about gas detector availability and your company's emergency contact information.

Document the distribution

—Keep a record of your mailing. Be sure to include the date, a copy of the material sent and a list of customer names and addresses.

Make it an annual practice

—Sending materials on an annual basis helps ensure that all customers are getting the information they need, especially newer customers. For long-term customers, notifying annually provides the repetition that helps make sure the information really "sticks.'

Don't let commercial clients slip through the cracks

—While some of the most memorable propane accidents occur in homes, you need to make sure you don't neglect your commercial customers. If you deliver bulk propane or propane cylinders to commercial entities, you must send them the same duty to warn materials as your residential customers.
EMC's Free Duty to Warn Service
EMC Insurance Companies knows effective duty to warn programs are important. In fact, we value them so much that we provide free duty to warn services to policyholders who deliver propane and have an EMC general liability policy. We partnered with P3 Propane Safety, a compliance and risk management company that has been servicing the propane industry for more than 17 years, to help our policyholders manage their annual duty to warn mailings. Here's how the service works:
Get started

—If you are an EMC policyholder with a general liability policy, get started by emailing your contact information to dutytowarn@emcins.com. EMC will pass your information along to P3 Propane Safety.

Indentify customers securely

—We know you value your customers' privacy. That's why P3 Propane Safety is contractually obligated to maintain your customers' privacy. This means that contact information is only used for duty to warn notifications and will never be shared.

Check and double check

—To maximize accuracy and deliverability, P3 Propane Safety runs your customer list against a U.S. Postal Service database to ensure addresses are valid and will be able to receive the mailing.

Send letters

—Validated addresses receive a customized letter about propane safety along with a scratch and sniff brochure that outlines how to identify the signs of a gas leak.

Recordkeeping made easy

—After the mailing is successfully distributed, P3 Propane Safety will provide you with a signed certificate confirming the mailing. P3 Propane Safety also manages all recordkeeping, including who received the duty to warn notifications and when.

Annual notifications

—For your conveniences, duty to warn packages are automatically sent annually.
Learn More