Loss Control Insights for Petroleum Marketers
Are Your Propane Employees CETP Certified? (updated May 2021)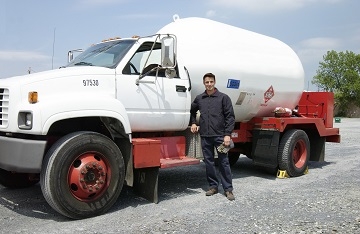 When it comes to propane operations, providing quality training and education for your employees can go a long way toward preventing accidents. Educated employees understand how to work with propane safely and know how to meet code requirements. These educated employees send a message to your customers that safety is a priority, which can help set you apart from your competitors. Plus, many insurers require employee training and certification as a condition of coverage.
Industry Standard Propane Training: CETP
The industry standard for propane training—and the program that EMC recommends—is the Certified Employee Training Program (CETP) from the Propane Education & Research Council (PERC). There are a variety of CETP courses available, from Basic Principles & Practices to Bobtail Delivery Operations, so you can tailor your employees' training to their job functions.
After training is complete, there are three steps to attaining CETP certification from the National Propane Gas Association (NPGA).
Pass the exam; exams can be taken in written form or online
Complete a skills assessment and return within 12 months of passing the exam; a skills evaluator—either a propane manager/supervisor or a contracted training consultant—observes and evaluates the employee's ability to perform job-related tasks, then returns the assessment to the NPGA's training center
Complete any needed prerequisites within 12 months of passing the exam
Make sure your employees don't fall short on their certification requirements. According to the NPGA, 30% of employees who pass the exam fail to complete the rest of the certification requirements within the allotted time. After the 12-month window expires, employees have to retake the exam in order to finish CETP certification.
Once employees complete the training and certification requirements, they receive a certificate, patch and wallet card recognizing their propane expertise. Your insurance carrier may request a copy of each qualifying employee's certificate.
Maintaining CETP Certification
To maintain their certification, employees should receive refresher training every three years. Many state propane gas associations offer training and PERC has developed some
online nationwide refresher training
.
Extend Propane Education to Your Customers
Educating your propane customers about the proper use and storage of propane, as well as how to detect warning signs of a gas leak, can significantly reduce the risk of propane-related accidents. That's why EMC has partnered with
P3
to provide free, comprehensive duty to warn information to your customers.
Learn more about this duty to warn service
, or send us an email at
dutytowarn@emcins.com
to get started.