Loss Control Insights for Petroleum Marketers
Slip and Fall Danger Zones: Protect C-Store Employees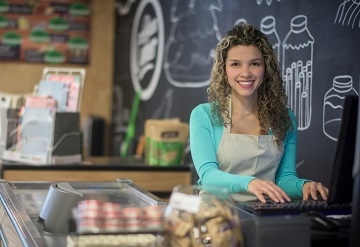 Slips and falls are a leading cause of workplace accidents, representing approximately 39 percent of workers' compensation claims* submitted by convenience store employees. The average cost of a slip, trip or fall accident is more than $10,000*. Check out these common danger zones for c-store employees and our suggestions for making them safer:
Coolers
Prevent slips and falls in the coolers by adjusting your shelf storage to make stocking easier and safer. Stock larger items on the lower shelves, and don't allow employees to stand on stock or climb shelves. Instead, place a good step stool at each location where employees need to reach elevated stock and remove empty milk crates, which are often misused as climbing devices.
Wet Floors
Wet floors should be mopped dry as soon as possible, and wet floor signs should only be put up when floors are actually wet.
Entrance mats
are designed to keep moisture from being tracked in from the outside, so they should be switched out and extracted when saturated. Check them regularly and replace them when damaged or worn. Make sure they don't have bulging areas or upturned edges that could catch someone's foot. Slip-resistant or water-absorbent mats are also helpful in areas where moisture is common, such as in front of fountain drink dispensers.
Cleaning Procedures
Be sure to use the
correct cleaning chemicals and methods
for your floor types, and consider using commercially available floor treatments designed to increase traction. Remind employees to follow the instructions for any cleaning products you are using—using more than the directed amount of chemicals can actually make floors more slippery.
Parking Lots
Potholes in concrete create tripping hazards while also collecting water, which can freeze and lead to a slip. Repair potholes as soon as possible, or temporarily fill them with gravel or paver base until permanent repairs can be made.
Sidewalks
Check the paths employees follow while doing outdoor tasks, such as taking garbage to a dumpster, to make sure there are no tripping hazards along the way. Inspect sidewalks for changes in elevation greater than ¼ inch and mark them with paint or cones until they can be repaired. Make sure that downspouts don't discharge water across walking paths, as this can cause slippery algae buildup in the summer and icy surfaces in the winter.
Other Tips
Encourage employees to wear slip-resistant footwear. You should be extra vigilant about slip hazards in cooking areas where liquid or grease might be present—follow a cleaning schedule and install slip-resistant mats. Make sure employee areas are organized with no clutter or debris on the floor.
Find More Online
*EMC Insurance Companies claims data