Loss Control Insights for Petroleum Marketers
Put a Stop to Internal Theft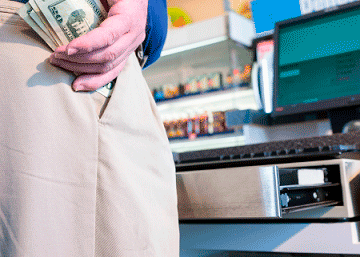 Though you may find it hard to believe, the U.S. Chamber of Commerce estimates that 75 percent of all employees steal at least once in their lifetime, and half of those that steal do so repeatedly. And it's not just your employees you need to worry about. If your operation has warehouses or retail locations, vendors may have the same behind-the-scenes access with little supervision. Here's a quick guide to help prevent internal theft.
Why do people steal?
Opportunity—When gaps in internal controls are apparent, even the most honest employees can be tempted to steal.
Pressure—Theft is more likely when employees are feeling financial pressure in their personal lives. Stressors include drug or alcohol dependency, divorce or medical bills.
Attitude—Some employees may think the company "owes" them something or may not see their actions as an act of theft. They may also see theft from a large organization as a relatively harmless crime since they aren't stealing directly from an individual and they believe the organization can absorb the loss.
How can I detect or discourage theft?
Know your employees. Order applicant background checks for positions that handle cash, and make sure they comply with federal and state regulations. You have less control over vendors, but consider keeping a log of approved vendor names, payment details and visits recorded by employees. This helps your staff keep unauthorized people out of your sensitive areas and provides a reference for which accounts are cash on delivery.
Advertise your awareness. If you have a closed-circuit television (CCTV) system, you should be spot checking recordings regularly. To let employees know you're reviewing video (and deter theft that might occur when they think video isn't being reviewed), find on-camera instances of employees doing good work and pay them a compliment in front of others.
Monitor vendor activities. Consider creating a schedule to let your employees know when to expect specific vendors. When a vendor arrives, have a manager check them in and verify the inventory being delivered matches the invoice. Don't be afraid to open boxes and look inside. You can also ask vendors to flatten boxes before they leave to ensure they are empty on the way out of your facility.
Create a security culture. Train employees about theft and keep them on the lookout for signs of theft among other employees or vendors. Make sure they know they can report suspicious activity to supervisors without reprisal and explain how to do so.
Provide alternatives to stealing. Consider establishing an employee assistance program to help those who are struggling with substance abuse or other problems.
Audit regularly. Routine audits of inventory and bookkeeping can help catch fraud and theft. Pay special attention to cigarettes, lottery and phone card sales, and consider a third-party audit when theft or fraud is suspected. Review point-of-sale records for suspicious voids or returns, or cash registers staying open too long. You might also want to analyze average sales per customer (or ASPC) to determine which employees (those with lower ASPC) might be skimming money. Check out this handy guide, The ABCs of ASPC from Convenience Store Decisions.
Find More Online