Loss Control Insights for Petroleum Marketers
Five Ways to Reduce Overexertion Injuries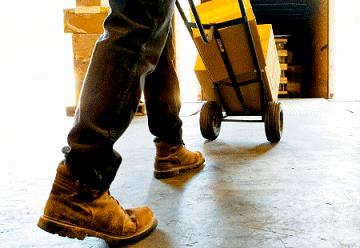 Overexertion injuries are a top cause of employee injury for
petroleum marketers
. These injuries typically result in sprains (stretching or tearing ligaments) or strains (stretching or tearing tendons or muscles). And overexertion injuries aren't cheap—they average nearly $20,000* per claim. Plus, you could sustain productivity losses or may need to find temporary replacements for injured employees.
Overexertion can affect anyone—from bulk plant employees loading barrels to convenience store workers carrying beverage dispensing supplies. While you likely can't eliminate all lifting by your employees, you can decrease their risk of injury.
Cover the Basics
Reducing injuries can begin during the recruitment process. Be sure you're hiring the right people by including any lifting requirements in your job descriptions. Once onboard, communicate the importance of taking breaks when needed and train employees on the
basic best practices for lifting
:
Stretch before heavy lifting or strenuous activity
Keep your feet shoulder width apart
Lift with your legs and avoid bending or relying on your back muscles
Hold objects close to your body
Do not twist while lifting
Ask for help and team-lift heavy loads
Use tools or equipment for heavy lifts
Use Storage Space Effectively
Storing heavy items like cases of beer or boxes of syrup for fountain machines on high shelves or directly on the floor can increase the risk of back strains. Even lightweight items like cigarettes can create an overexertion hazard when they are stored in a location that requires frequent overhead reaching. To reduce the risk of injury,
store heavy or frequently used items
on shelves between knee and waist level.
Offer the Right Tools
Employees who need to move heavy or awkward items must be provided carts, dollies or other material handling aids, especially if items need to be moved more than a short distance.
While sprains and strains are an obvious risk of lifting, you may not realize that housekeeping tasks bring about their own overexertion hazards. Heavy cotton loop mops can be physically demanding, so try replacing them with lightweight microfiber mops that require less force to maneuver. Additionally, use mop buckets with drain openings that allow them to empty directly into a floor drain. This eliminates the need to lift the bucket, creating a safer way to drain. You can also make it easier to take out the trash by adding holes near the bottom of garbage cans. This reduces the suction created when the bag is pulled out. A simple step-up platform next to the dumpster can also make it easier to throw out heavy trash bags without straining.
Invest in Injury Prevention
Upgrading to newer equipment can help your staff work more efficiently while reducing overexertion injuries. Even retrofitted improvements to your existing equipment can make a big difference. For example, mounting LED fuel price kits on existing signs eliminates the need to manually change outdoor signs.
Encourage Early Reporting
Your safety program should include reporting processes. Make sure your employees know the proper steps and feel comfortable reporting even minor sprains and strains. Early treatment of an
overexertion
-related injury can keep the injury from increasing in severity, decrease the risk of recurrence and reduce your workers' compensation claims costs.
Find More Online
*Based on EMC claim data for petroleum marketers