Loss Control Insights for Petroleum Marketers
Make the Most of Your Mats This Winter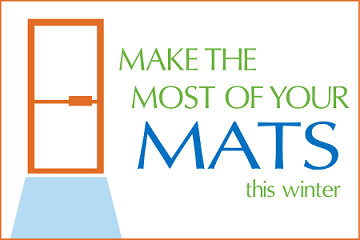 Help prevent slips and falls on your premises this winter with these tips for getting the most out of your mats.
Catch the First Steps
Place scraper mats outside entrances to help remove snow and mud from shoes before they cross the threshold. Water-absorbent wiper mats should then be placed just inside the door where they can catch the first step inside, absorbing moisture before it can be tracked onto your hard surface floors. In dry conditions, we recommend a minimum wiper mat size of 4'x6' to catch light soil and occasional moisture, though using a longer entrance mat (12'–15' in length) will further enhance store safety and appearance.
Create a Smooth Transition
To help prevent trips, make sure entrance mats aren't overlapping or misplaced. Mats with a slip-resistant backing are ideal, but you can also spray a thin layer of pressure-sensitive adhesive on the underside of your existing mats to keep them in place. If you are looking for an alternative to traditional rental mats, consider a disposable, adhesive-backed mat product that can be cut to size and doesn't buckle. You may also want to purchase your own high performance mats, which last longer and perform better than typical rental mats.
Adjust to Weather Conditions
In wet conditions, small mats can quickly lose their effectiveness as they become saturated. Be prepared to add additional mats during wet or snowy weather to keep water from migrating onto hard surface floors. As mats become soaked, either swap them out for dry ones or use an extractor to remove the water. If mats can't be swapped out or dried immediately, post wet floor signs as a
temporary
measure and keep a mop handy to clean up excess water as soon as possible.
Replace Worn Mats
Mats that are worn smooth do not effectively remove dirt and moisture from shoes. Other problems with mats can include curled or broken edges. Inspect your mats regularly and have them replaced when they are worn or damaged.
Find More Online