Loss Control Insights for Petroleum Marketers
Improve Your Propane Safety Training With Free Resources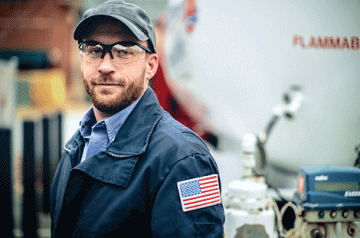 If your operation involves propane, your employees should be trained to understand how to handle propane safely. The gold standard of training in the industry is the CETP certification as it meets the requirements of the LP Gas Code, NFPA 58. But continuing education is also extremely important and will help you ensure your propane operators are at the top of their game. Check out these free training resources from the Propane Education and Research Council (PERC) and EMC.
PERC Safety Minutes for Busy Propane Professionals
Safety Minutes are short, weekly videos that give refreshers on relevant propane subjects. Recent topics include how to read a tank gauge, what to do if you suspect a gas leak, and handling and transporting small cylinders.
Propane Safety Scenarios
These highly visual interactive training simulations walk the user through a wide variety of topics including container distance requirements, filling cylinders by weight and how to conduct leak checks.
Propane Workforce Safety Talks
Need a topic for your employee safety meeting? Download these free safety talks that are designed for 10-15 minute presentations. The talks cover everything from personal protective equipment to customer service to requalifying cylinders.
Consumer Safety Tools
PERC also addresses the safety of your customers with 16 consumer safety modules that can be downloaded for free and placed on your website. If you're interested in mixing safety and advertising, check out these free, ready-to-use radio ads. PERC also offers a Consumer Safety Preparedness Campaign that focuses on pre-winter preparations. Materials include professional photos for your website and educational handouts that can be printed or emailed.
EMC Petroleum Marketers Resources
Whether your operations focus on bulk fuel deliveries or convenience store operation, EMC has a multitude of resources to help you prevent losses. From information on preventing cargo tank rollovers to installation record forms, EMC has you covered.