Loss Control Insights for Petroleum Marketers
Four Tips for Using Ice Melt Effectively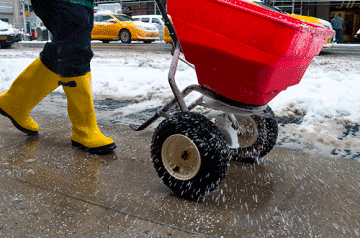 When it comes to maintaining your sidewalks and parking areas during the winter, ice melt can be a valuable tool. Make sure you're getting the most out of your ice melt with these tips.
Put It Where It Counts
Ice melt must be applied right on the walking surface to be effective. Ideally, this should happen before a snow storm. If that's not possible, spread the ice melt after you have cleared the snow instead of just putting it on top.
Don't Apply Too Much
According to manufacturers, less is usually more when it comes to ice melt. Applying too much is costly, can cause environmental damage and may leave a slippery residue on your floors if it is tracked inside. Help control your application by using handheld fertilizer spreaders for small areas and walk-behind spreaders for large areas. Colored ice melt can also give you a visual indication of how much has been put down.
Keep It Outside
Help reduce tracked-in ice melt residue by placing mats both outside and inside all entrances. Hard surface floors should be mopped as needed throughout the day and mats should be replaced when they become saturated.
Consider the Surface
Ice melt is not recommended for new concrete less than a year old, or on porous walkways surfaces such as brick. To reduce concrete damage, be sure to remove the slushy layer once the ice melt has done its job. You may also want to apply a sealer to concrete surfaces that are frequently exposed to ice melt.
Find More Online