Loss Control Insights for Public Sector
Ergonomics for EMS: 5 Ways to Prevent Neck and Back Injuries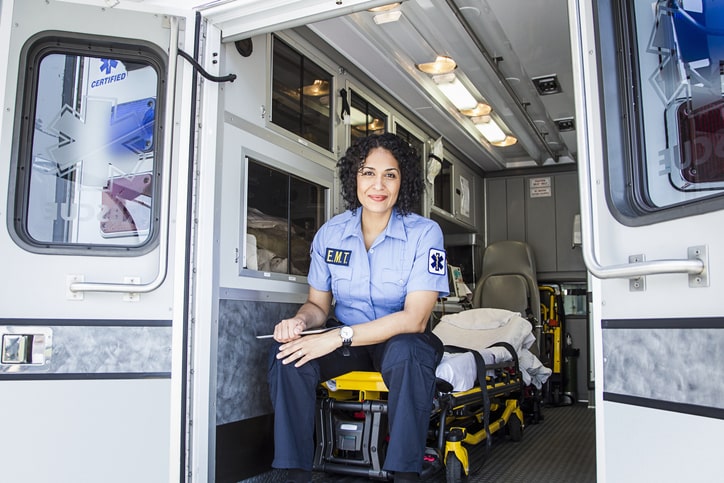 Since we depend on emergency medical services (EMS) workers to treat the injuries of others, it may come as a surprise to learn that these workers are quite prone to on-the-job injuries. In fact, EMS workers have higher rates of work-related injuries than the general workforce and three times the lost workday rate of all private-industry workers, according to a fact sheet from NIOSH.
Using data gathered from a four-year study, the fact sheet states that injuries occurred most frequently while responding to 911 calls and the primary ailments were sprains and strains to the neck and back.
Prevention is Key
Back pain is not only difficult for the injured worker to cope with, it can also affect the employer's bottom line. Injuries can lead to costly workers' compensation claims, open positions that must be filled and overtime payments.
So how can you prevent on-the-job injuries? Most back and neck injuries are a consequence of three major factors: significant lifting forces (i.e., patient weight), repetitive movements and awkward positions. Here are five tips to increase patient and provider safety:
Ask for help. Know your limitations and ask coworkers for help. Always use two workers to raise a power cot into a vehicle and use a four-person lift when raising a gurney from floor level. If there aren't enough workers on the scene, call for assistance and wait.
Change the lift height. Never lift from floor height. Instead, use a commercially made device to change the lift height from floor to knee height. While the initial cost of such devices can be high, the reduction in injuries and other cost savings make them worth the investment.
Reduce friction. Use a transfer device to reduce friction and avoid awkward angles during lateral transfers and slides. These devices also have built-in handles that allow you to properly grip and lean over less.
Decrease trunk angle. The further you lean over, the more force you place on your back. Be sure to keep your sternum and head up at all times when lifting and transferring.
Stay fit. No amount of technology will replace the basic need for resilience and strength. The stronger your glutes are, the less load on your back, so start embracing exercises like squats, dead lifts and lunges.
Pain Without Injury
Even with transfer and lifting devices, being an EMS worker is a physically demanding job. Workers can utilize proper lifting techniques and still experience soreness and pain. Below are some techniques to help combat pain when injuries are not present:
Ice. Apply ice to the area for 15 minutes every few hours to alleviate pain.
Stretch. Stretch the area and hold for at least 90 seconds. You may also want to try to foam roll your hip flexors, inner thighs and glutes before you begin stretching.
Strengthen. Once the pain has calmed, work on building strength through stability exercises.
Other Causes of Injuries
According to EMC claim data from 2015-2017, the top 10 causes of injury for EMT/EMS classification are as follows:
Strain by lifting
Cut, puncture, scrape
Fall on ice or snow
Fall, slip or trip — miscellaneous
Struck by fellow worker, patient, other
Strain or injury — cause other than lifting
Fall, slip on same level
Dust, gases, fumes or vapors
Fall on stairs
Caught by object handled
Read this article to learn more about these hazards and tools for prevention.
Additional Resources