Loss Control Insights for Public Sector
9 Ways Local Governments Can Prevent Auto Accidents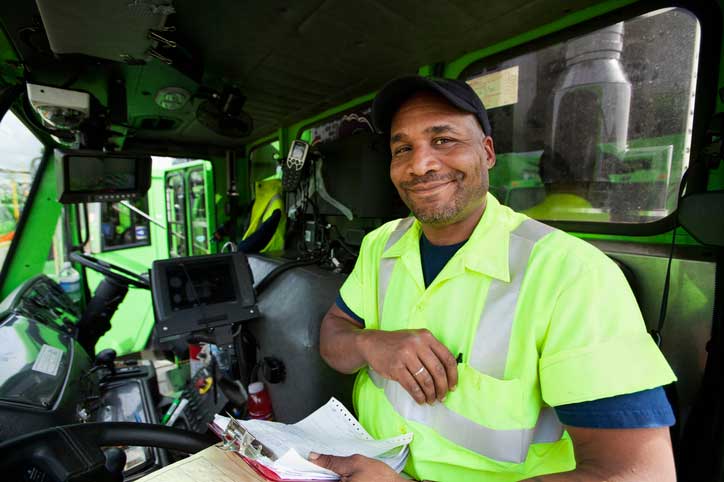 Municipal operations have complex fleets. Beyond ordinary passenger vehicles and pickup trucks, you may have trucks for waste collection, utility servicing vehicles, police cruisers, fire apparatus and ambulances, and heavier duty vehicles used by the street department.
It's a lot to manage, but getting a handle on your commercial auto claims can make a big difference in your operational costs, while also preventing injuries and property damage.
Analyze Historical Data To Target Future Claims
To effectively prevent losses, start by understanding where your losses have occurred in the past. Review your organization's auto claims for the last several years and look for trends that can point you to the areas or types of vehicles to target first.
EMC's claims data indicate that public sector organizations experience significant losses from accidents occurring at intersections (these tend to be the most costly) and collisions while backing (these tend to occur most frequently).
Darkness, Fatigue and Other Conditions Contribute to Collision Risk
Many factors that contribute to the risk of vehicle collisions are inherent to public service occupations, though awareness can help departments manage the hazards through staffing and administrative policies. Some of the biggest issues are:
Working alone
Working near obstacles such as parked cars
Fatigue from long hours or night shifts
High-stress situations
Driving at high speeds
Apply Best Practices to All Departments When Possible
Know who is behind the wheel—Check motor vehicle records (MVRs) for anyone driving a municipal vehicle, including volunteers and part-time employees.
Require the right licensing—While municipal organizations are often exempt from DOT requirements, it's smart to require a commercial driver's license (CDL) for all employees and volunteers driving large, specialized vehicles (such as fire apparatus). Don't forget about appropriate endorsements for air brakes, tank vehicles or passenger transport.
Train, train and train some more—Even years of driving a passenger vehicle won't prepare a driver for specialized situations such as stopping a fire truck carrying thousands of gallons of water in a tank. Before handing over the keys, provide plenty of training and ride-alongs with seasoned drivers who know the ins and outs of the vehicles. Check in periodically to see if newer employees/volunteers feel comfortable or need additional help. Retrain or revoke driving privileges when necessary.
Use a spotter when backing—Even vehicles equipped with backup cameras and alarms have limitations, so encourage drivers to use a spotter (if possible) when backing near obstacles such as parked cars or buildings.
Require seat belt use—Seat belts can be a contentious issue for first responders, but the statistics clearly show how important they are. Motor vehicle collisions are the second leading cause of death for on-duty firefighters, and among police officers killed in accidents nearly 20% were ejected from vehicles. Law enforcement organizations, including the National Sheriff's Association and the International Association of Chiefs of Police, recommend a mandatory seat belt wearing policy.
Play the long game—Effectively managing your diverse fleet requires a long-range outlook. Maintain a good inventory of all municipal vehicles, track maintenance, plan ahead for replacement and look hard at high-cost vehicles to ensure you're investing your funds wisely.
Unique Considerations for Local Governments
Beware of Intersections—In high-pressure, time-sensitive situations, first responders are less likely to be cautious going through intersections, leaving them vulnerable to severe collisions if cross-traffic doesn't yield. Include information about the hazards of intersections in all first responder driver training, and if your budget allows consider purchasing traffic preemption technology for intersections with stoplights.
Require a Sober Response—First responders who have been drinking alcohol should never respond to a call, regardless of whether they are employees or volunteers. Implement an official policy and create an on-call schedule to ensure a ready (and sober) response during holidays or special events where alcohol might be an issue.
Due Diligence and 28E Agreements—If you're sharing resources with a neighboring community through a 28E agreement, it's a good idea to get familiar with their policies and rules. Are they protecting your people and property, or putting them at additional risk?
Find More Online