Loss Control Insights for Public Sector
5 Strategies for Safer Winter Sidewalks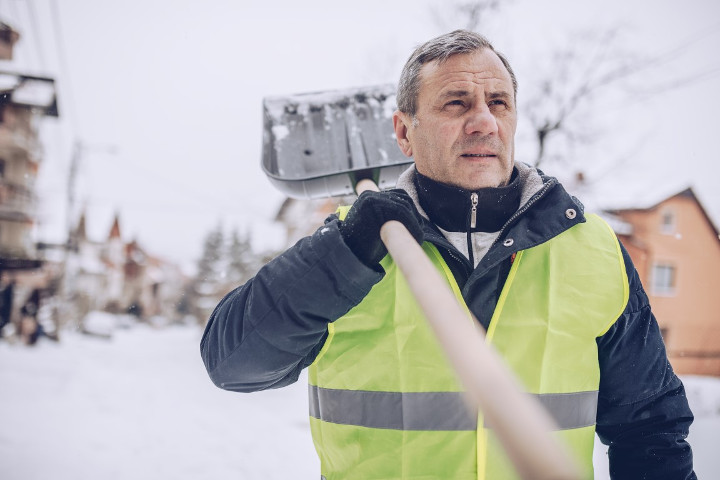 Slips, trips and falls are a year-round problem for public areas, but winter storms bring additional challenges for your team. To manage outdoor walkways effectively, follow these tips.
Get Ahead of Existing Problems
If your walking paths are still visible, conduct an audit looking for hazards that might be hidden by snow or make winter walking more dangerous. Potholes in parking lots can collect frozen water, forming extra slippery patches and changes in elevation between sidewalk sections are even more likely to trip up a pedestrian once they're obscured by snow and ice. Drainage spouts that discharge water across pedestrian routes become problematic when the temperatures drop and the runoff becomes a thin sheet of ice. You'll want to address these issues as soon as possible—here are some possible solutions.
Pretreat Walkways Before Storms
Applying brine to sidewalks before a storm can help prevent snow and ice from bonding with the pavement, making it much easier to remove later. Liquids can be applied precisely and remain on sidewalks for days, helping you work more efficiently. According to the Snow & Ice Management Association (SIMA), shifting your sidewalk resources to preventive spraying utilizes up to 75% less salt and substantially less labor than that required to achieve similar results by deicing after snow has fallen.
Remove Snow Strategically
Know which areas see the most pedestrian traffic and when that generally occurs so you can start your snow removal efforts where they will have the biggest impact. Don't forget to pay extra attention to sidewalk transition areas such as curb lines and steps.
Don't Oversalt
When using ice melt after a storm, you should manually clear as much snow and ice as possible before application to get the best results. Once the ice melt has done its job, push the slush layer off the pavement to help reduce concrete damage and refreeze.
To increase traction without ice melt, try applying coarse sand, oil absorbent or poultry grit. This is handy for new concrete (ice melt can damage surfaces less than a year old) or areas with landscaping sensitive to salt and chemicals.
Check and Recheck Conditions
During a storm, monitor weather and walkways throughout the day so you can stay on top of snow accumulation. Later on, if daytime temps are warm enough to thaw ice you'll want to keep an eye out for black ice the following morning. This hard-to-see layer of ice is extremely slippery and can appear well into spring if overnight temperatures are cold enough.
Find More Online
Slip, Trip and Fall Resources
The Dos and Don'ts of Ice Melt
Seven Slick Ways to Get the Most Out of Your Ice Melt
Winter Slip and Fall Prevention Program
Slip, Trip and Fall Prevention Guide