Loss Control Insights for Public Sector
Snow Plow Prep: 6 Ways to Be Ready for Winter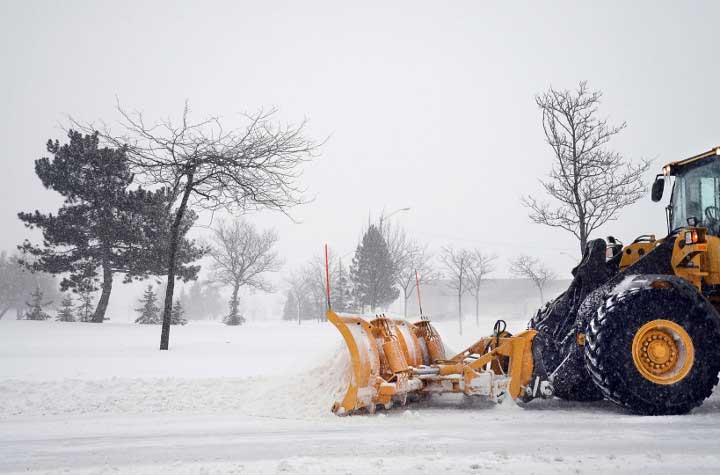 While the weather outside may not yet be frightful, it's never too early to begin your pre-winter prep. Establishing an action plan far in advance means your municipality won't be caught off guard when the first snowfall hits. Here are some tips to help you transition to snow removal season.
Evaluate the Fleet
Conduct a thorough inspection of your snow plow fleet at least a couple months before the start of the new season. All equipment should be ready for safe operation.
Consult the maintenance guidelines in the plows' operating manuals. If any equipment is due for repair or replacement, make sure that is addressed before the snow flies.
Consider if the number of plows is sufficient for the season. At least one spare plow should be on hand for every eight to 10 in operation.
Prep Personnel
Make sure you have enough snow plow operators lined up for the season. Consider engaging additional on-call personnel in case a major storm occurs.
Maximize behind-the-wheel safety by ensuring personnel has the appropriate training to operate the equipment.
Remind snow plow operators to wear warm clothing, slip-resistant footwear and reflective safety vests.
Get Supplies in Order
Determine which de-icing and anti-icing materials to use for the season (e.g., salt, sand, calcium chloride, potassium acetate).
Forecast your minimum needs for supplies using weather history and long-term weather forecast projections. Factor in how many square feet of pavement and sidewalks are in your municipality.
Take worst-case scenarios into consideration when doing supply calculations.
Conduct Preseason Site Inspections
Familiarize yourself with areas that will require plowing. Look for obstacles that could prove hazardous when snow-covered (e.g., speed bumps, tire stops, elevated manhole covers).
Check plow sites for any damage or issues. Have those corrected as soon as possible to prevent them from worsening during winter conditions.
Review how sites are draining, where water collects and where icing problems may occur. Look for changes since the last plowing season that may have affected site drainage.
Note areas of heavy foot and automobile traffic that should be prioritized for pretreatment and early clearing.
Create a site plan identifying potential hazards and changes in surface elevations. Share this plan with snow plow operators.
Educate snow plow crews about how to get to each site, where the nearest supply locations are and most effective plowing paths.
Plan Your Piles
Don't leave planning snow pile locations to the last minute. Planning ahead means snow removal personnel can safely and confidently relocate snow as soon as it falls.
Use the findings from your site inspections, as well as aerial photography, to help determine where snow piles should go.
Consider how sites naturally drain, as drainage will refreeze following subsequent winter weather conditions. Visit the sites after it rains to see this in action.
Pick areas free of obstacles, close to drain locations and away from places with high pedestrian traffic.
Keep snow melt from running back onto walking surfaces and becoming black ice by making sure piles slope away from sidewalks and parking lots.
Make sure snow piles won't block fire hydrants, mailboxes, driveways, dumpsters or electrical boxes.
Create maps for snow plow operators identifying snow pile locations, as well as obstacles and drain locations.
Consider Pedestrian Safety
Make sure snow plow operators closely monitor areas with heavy pedestrian traffic (e.g., sidewalks and parking lots) for slip-and-fall risks.
Instruct snow removal operatives to clear sidewalks first. Ask them to push snow from sidewalks into open areas where snow plows can safely relocate it.