Loss Control Insights for Public Sector
EMS Providers — New Fact Sheet Reveals Injury Risks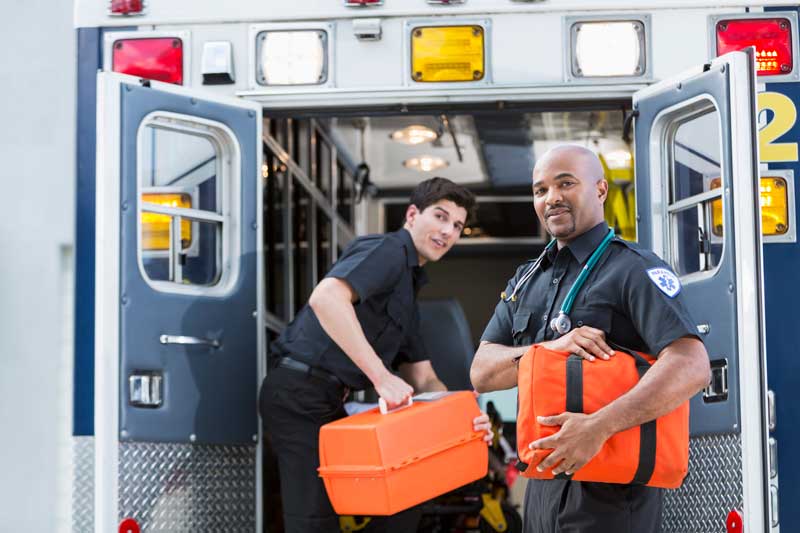 We count on emergency medical services (EMS) providers to be ready and able to respond in the event of an accident or disaster. They spend so much of their time treating the injuries of others that it's easy to forget that EMS workers are themselves vulnerable to on-the-job injuries.
The National Institute for Occupational Safety and Health (NIOSH) wanted to understand what kinds of injuries were most likely to sideline EMS workers, so they spent four years capturing data on EMS providers who were being treated in emergency departments after a work-related injury. They crunched the numbers and produced a short and informative fact sheet, Emergency Medical Services Workers: How Employers Can Prevent Injuries and Exposures.
Provide this handout as a quick and useful high-level overview for all of your first responders who provide prehospital emergency care. Then check out the expanded information below that includes insights from EMC's own claims data and links to useful resources that can help you prevent future injuries.
Patient Handling — A Strain (or Sprain) Waiting to Happen
Problem: We have found that strains and sprains (referred to in the insurance business as "overexertions") are nearly always one of the top causes of employee injuries no matter what industry you're looking at, and the EMS category of employees is no exception. Take a look at the table below. Strains and sprains represent two of the top ten injury categories, with an average claim costing nearly $22,000.
TOP 10 CAUSES OF INJURY FOR EMT/EMS CLASSIFICATION*
STRAIN BY LIFTING
CUT, PUNCTURE, SCRAPE
FALL ON ICE OR SNOW
FALL, SLIP OR TRIP - MISC
STRUCK BY FELLOW WORKER, PATIENT, OTHER
STRAIN OR INJURY — CAUSE OTHER THAN LIFTING
FALL, SLIP ON SAME LEVEL
DUST, GASES, FUMES OR VAPORS
FALL ON STAIRS
CAUGHT BY OBJECT HANDLED
*Source: EMC claim data 2015 - 2017
We looked through the accident descriptions and spotted a few mentions of sprains and strains occurring while stepping up or down from an ambulance, but the overwhelming majority were a result of patient handling:
"Transferring patient — strained shoulder"
"Loading patient into ambulance — strained neck"
"Carrying patient out of house on cot — strained upper arm"
"Sprained knee re-entering ambulance side door"
"Lifting patient from floor to chair — strained lower back"
According to the NIOSH fact sheet, strains and sprains are the most frequent injuries to EMS providers and the back and neck are the most affected body parts.
Tools for Prevention: Obviously, patient handling in remote locations far away from the patient-handling devices located in hospitals is a challenge, but there are people and publications working on the problem. Overall, the recommendations focus on using powered equipment and additional people to assist whenever possible, along with a focus on lifting and transport techniques.
Controlling Exposure to Bloodborne Pathogens — It Starts with a Plan
Problem: All kinds of first responders will occasionally encounter blood on the job — sometimes large quantities of it in a chaotic scene where needle sticks or cuts (and subsequent exposure to bodily fluids) are more likely. The NIOSH document cites 6,000 workers injured every year due to exposure to harmful substances such as blood or respiratory secretions, and our data recognize cuts and punctures as top causes of injury for EMS workers.
Tools for Prevention: Start with a written exposure control plan that covers standard precautions and work practices, decontamination procedures and waste disposal. Then make sure you provide the personal protective equipment (PPE) necessary for employees to follow the plan.
Slips and Falls — Choosing Shoes for Function Over Fashion
Problem: Like overexertion injuries, slips and falls are a problem no matter what industry you're in. You may have noticed that they represent three of the causes in our Top 10 list above — that's something to worry about! Check out these high dollar claims due to slips and falls:
"Slipped on ice, fell and strained shoulder" - $48,000
"Carrying patient on board down stairs, fell and broke toe" - $27,000
"Assisting patient, fell on porch stairs and injured knee/ankle" - $14,000
"Slipped on wet porch, fell and bruised shoulder" - $2,500
Tools for Prevention: EMS workers are constantly working in new, unfamiliar environments. Train them to be on the lookout for hazards that might trip them up and encourage them to put some thought into the safest route to take when transporting a patient. If responding to a call outside, watch for wet or icy walkways and avoid them if possible. Accident scenes may also be slick with liquids from vehicles. More standard advice includes slowing down (you can't help the victim if you become the victim), using handrails whenever available, and turning on the lights in a darkened area.
Even when they aren't out on a call, workers should be aware of slips and falls. Around the ambulance bay area, watch for puddles, hoses and cords that might trip you up. When climbing in and out of the ambulance, always use three points of contact (that means one hand and two feet, or two hands and one foot, touching the vehicle at all times) for maximum stability.
Your team may not always be able to control their work environment, but they can control their footwear. Consider implementing a policy that requires slip-resistant footwear for EMS providers to help them stay upright in slippery conditions.
Sit Down and Buckle Up — Improving Motor Vehicle Safety
Problem: Ambulance crashes (and non-collision incidents such as swerving and sudden stops) put patients, the public and EMS workers at risk. Unrestrained patients and employees can receive severe injuries when they are thrown around the patient compartment or ejected from the vehicle entirely during an accident. According to stats from the National Highway Transportation Administration (NHTSA), only 33% of patients were secured with appropriate restraints in serious crashes they investigated. And in those same cases, only 16% of EMS providers were restrained.
Tools for Prevention: The most important thing you can do is ensure that your EMS workers are restraining themselves and patients when inside a moving ambulance. Also be aware of general safe driving practices and the impact of fatigue while you're behind the wheel.
Violence and Assault — A Poorly Understood Problem
Problem: The NIOSH fact sheet notes 2,000 EMS providers are injured each year due to violence and assaults. Workers in all sectors of healthcare, and especially those who participate in prehospital emergency care, are vulnerable to violence from patients or those around the patient. Safety protocols that work well for emergency departments may not work well in the constantly changing environment of EMS providers. Despite the complexity of the problem, it's important to address this concern so that your providers can focus on the job at hand instead of anxiety about personal safety.
Tools for Prevention: While some research is being done to try to understand the violence faced by EMS providers, it's certainly not a cut-and-dried issue and no two emergency calls will be the same. NIOSH recommends establishing a program and setting policies to help prevent workplace violence. You can also provide risk management, de-escalation and self-defense training to reduce the risk for violence.
Find More Online