Loss Control Insights for Public Sector
Easy Ergonomic Improvements for Municipal Workers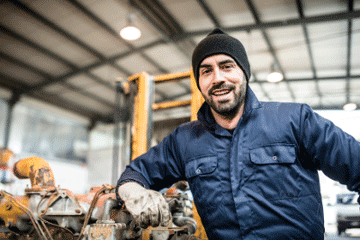 Your employees do a wide variety of work, so they're exposed to a wide variety of ergonomic hazards. Taking the time to make improvements to some of these jobs can help prevent injuries while also making the tasks faster and easier. Here are some ideas based on great examples we've seen.
Just Add Wheels
Using a cart or other wheeled equipment removes much of the risk of strains and sprains for your employees while making moves easier (and faster).Examples:
Barrel cart (also called a drum hand truck, or a drum dolly) for 55 gallon drums
Tank cart to move welding tanks
Bucket dolly for five gallon buckets
Delegate the Heavy Lifting
There's no reason for employees to depend on their backs alone to lift heavy or awkward objects. Use a mechanical aid to minimize lifting and holding of heavy items.Examples:
Truck-mounted hoist for lifting manhole covers
Modify a floor jack to hold grader bits and plow blades during removal/installation
Take Advantage of Replacement Cycles
You don't have to outfit your people with all new equipment right away. Just look for better replacements as part of your normal equipment replacement cycle. Choose tools that are lighter, produce less vibration or require less force to use.Examples:
Lightweight weed trimmers
Sprayers with nozzles that remain on instead of requiring repeated squeezing
Bring Work Closer to the Employee
Getting employees as close as possible to the task at hand can reduce awkward postures that cause discomfort and injury.Examples:
Sitting on a seat during vehicle maintenance can reduce kneeling and squatting
Adjustable height work benches (or even a stack of pallets) can elevate all kinds of work to a comfortable height
Involve Employees in the Process
Ask employees about the tasks they find most tiring or painful, then ask if they have any ideas for making the task better. You might be surprised what they come up with. You may even be able to build the solutions with your own personnel, shop and on-hand materials such as angle iron, tubing, pulleys and casters.
Other Ideas for Ergonomic Improvements
Store frequently used or heavy items on shelves between knee and shoulder height for easier lifting.
Stage deliveries of lumber, gravel and other materials as close to the point of use as possible to avoid unnecessary carrying.
Use aerial lifts instead of ladders, which can be heavy and awkward to move.
Replace older valves that must be turned open/closed by hand with new electronic valves that won't freeze or rust.
Find More Online