Loss Control Insights for Public Sector
Choosing Safe Drivers: What You Don't Know Can Hurt You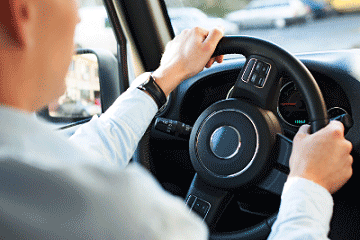 Are you putting the right people in the driver's seat of your municipal vehicles? An applicant's past driving behavior is a good indicator of future accident risk, so make sure you do your homework before you hand over the keys.
5 Ways to Make Sure You're Selecting Safe Drivers
Remember, you are hiring someone that represents your company. The more comprehensive your screening and training processes are, the more likely it is that you are selecting a trusted, safe driver. Here are five strategies that will help make sure you're making an informed decision.
Implement a Fleet Safety Program

—The first step to selecting quality drivers is creating a comprehensive fleet safety program. This should spell out your organization's fleet policies, including who is eligible to drive a fleet vehicle, what training you provide, the safety rules drivers must follow, maintenance schedules and how accidents should be handled. Don't have a program yet? EMC's Fleet Safety Program Generator can help you get started.

Check Driver Histories

—Before granting driving privileges to an employee, check their driving history by ordering a motor vehicle record (MVR) for the past three years. It's also a good idea to get an updated MVR for approved drivers annually. You may want to consider subscribing to a driver monitoring service for the most up-to-date information about your drivers. EMC policyholders are eligible for discounted driver monitoring services from SuperVision.

Your fleet safety program should outline what past offenses are unacceptable for drivers of fleet vehicles. The following may be cause for disqualifying the employee:

Driver's license is currently suspended or revoked
Driver does not have at least one year of verifiable driving experience
In the past three years, driver has had more than two at-fault accidents, three moving violations or two moving violations plus one at-fault accident
Within the past five years, driver has been charged with driving under the influence, reckless driving, hit and run, vehicular manslaughter/homicide, leaving the scene of an accident, speeding 15 or more miles over the speed limit, or refusing a field sobriety test
Driver tested positive for alcohol or drugs while employed with you

Communicate Authorized Vehicle Use

—In general, your organization's vehicles should only be driven for business reasons. Depending on your particular policies and procedures, you may allow employees to drive municipal vehicles home at night and on weekends for convenience or security purposes, especially if they may be called to handle emergencies. However, nonemployees such as spouses, children, other relatives or friends should not be allowed to drive organization-owned vehicles at any time.

Conduct a Thorough Interview

—A well-organized interview will help you better assess the values, personality and work ethic of potential drivers. Ask open-ended questions during the interview about the candidate's driving history and what they have done to improve their driving skills. You may even want to ask applicants to complete a written test or driving test as part of the interview process. If you decide to hire the applicant, consider hiring them on a temporary basis to make sure their driving skills and habits are a good fit.

Make Ongoing Training a Priority

—Driver error is the No. 1 reason for accidents. As an employer, it is your responsibility to make certain drivers receive ongoing training to ensure their safety and the safety of the public. EMC offers an array of driver training materials on the Loss Control section of our website. These include online training programs, posters, tech sheets, safety program templates and more.

You may also want to consider new driver assist technologies that can help alert your drivers to real-time collision risks so they can take preventative action. EMC has partnered with Mobileye® to offer policyholder discounts on the purchase of their aftermarket collision avoidance system. Email losscontrol@emcins.com for information about this service.
What If My Employees Need a CDL?
Depending on your operations and the regulations of your state, you may employ drivers who hold a commercial driver's license (CDL). Employees with a CDL should be held to a higher standard when it comes to driver qualification. Some of these additional requirements include the ability to read and speak English, possession of a valid medical certificate, and successful completion of additional safety and equipment operation training.
Find More Online