Loss Control Insights for Public Sector
The Do's and Don'ts of Snowplow Safety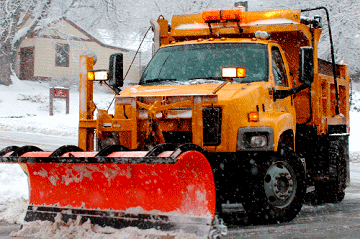 During winter weather events, your snowplow operators make the roads safer for your residents. Help return the favor, and make sure your drivers are ready to tackle the next snow, with these safety do's and don'ts.
The Do's
Do Dress for Safety—Stay safe even when you aren't behind the wheel with warm clothing, slip-resistant footwear and a reflective safety vest.
Do Have Three Points of Contact—Climbing in and out of the cab can be dangerous, especially when surrounded by snow and ice. To help prevent falls, make sure you have three points of contact (either two hands and one foot, or two feet and one hand) with the vehicle at all times.
Do Wear a Seatbelt—If your plow hits a hidden obstruction, the vehicle may stop suddenly. Make sure you stay in the driver's seat by always wearing a seatbelt.
Do Keep a Clear View—Prior to plowing, check that vehicle lights are sufficient, in working order and adjusted properly to provide a clear view. Additionally, you should stop periodically to clear ice and snow from your windows and lights to make sure you can see and be seen.
Do Adjust for Other Surfaces—If you're plowing dirt or gravel surfaces, lower the plow shoes. This will raise the blade, so the surface isn't scraped away.
Do Keep Snow Away From Buildings—When plowing close to a building, always push or pull the snow away from the building.
The Don'ts
Don't Overexert Yourself—When snow is in the forecast, plan ahead so you can be well-rested and ready to drive. Operators who are sleepy or under the influence of drugs or alcohol are a danger to themselves and everyone else on the road.
Don't Wait—If a significant amount of snow is expected, get a head start by plowing during the storm. Try to plow during low-traffic times to minimize the number of cars and pedestrians you'll have to maneuver around.
Don't Forget About Sidewalks—If you are responsible for sidewalks, clear them first. Push the snow from the sidewalk into an area where you can use the plow to push it away.
Don't Rely on Your Mirrors—When moving in reverse, don't rely completely on your mirrors. Instead, turn around and look where you are going.
Don't Rush—Plowing speed should be reasonable and appropriate for conditions and traffic. Use extra caution when plowing next to curbs, vehicles and other obstructions.
Don't Pile in High Traffic Areas—Snow piles can freeze solid, making them almost impossible to remove later so be sure to pile snow where minimal pedestrian traffic is expected. Make sure your pile slopes away from sidewalks and parking spaces so snow melt doesn't run back onto these surfaces, refreeze and turn into very slippery black ice.
Don't Block Important Items—Never block access to driveways, mailboxes, fire hydrants, dumpsters, water drains or electrical boxes with your snow piles.
Find More Online
Commercial Snow Plow Safety
Snow Plowing Techniques (VIDEO)
Plow Safely This Winter