Loss Control Insights for Public Sector
Effective Sidewalk Maintenance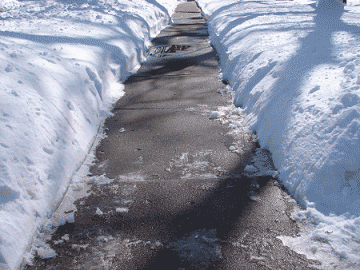 If you're responsible for keeping up sidewalks or parking lots, an effective sidewalk maintenance program can help you spot and repair problem areas on your walking surfaces before one of your employees or a member of the public experiences a slip and fall injury.
Audit Regularly
You should be inspecting your sidewalks at least annually, but for high-traffic areas we recommend every other month. Try to include an audit after a rain shower, looking for any ponding or areas where mud and debris collect - an indication of possible trouble spots.
Prep Your Personnel
Your own employees can easily complete a sidewalk audit if they know what to look for. Check out our illustrated
Slip, Trip and Fall Prevention Guide
for helpful photos of common hazards.
Let the Checklist Be Your Guide
Use a checklist to help make sure your sidewalk auditor doesn't overlook any important areas. You can make your own or you can use EMC's
Slip/Fall Prevention Checklists
.
Document Findings and Fix Problems
Record all audits along with the name of the inspector, date completed, areas inspected, problems noted and a timeline for repairs.
Find More Online