Loss Control Insights for Contractors
Find the Right PPE Fit for Your Workers (Updated September 2021)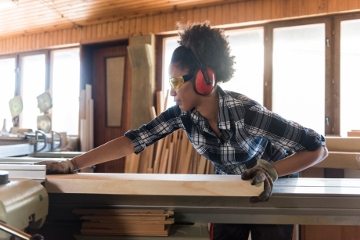 While personal protective equipment (PPE) can be an effective way to prevent injuries, it must be the correct PPE for the job and the right fit for the worker. If PPE does not fit properly, it can expose workers to health and safety hazards. As their employer, it is your responsibility to help them find the right fit.
The Risks of Ill-Fitting PPE
Many companies overlook the importance of offering PPE in the correct size for all workers. But ill-fitting PPE can negatively impact a worker's ability to efficiently perform their job and put them at risk for serious injuries or even death.
When PPE is too big,
it doesn't stay in place. This is frequently a problem for workers with slim builds. Depending on how oversized the article is, it may create a new safety hazard for the wearer.
Baggy vests may be pulled into equipment
Overly large gloves that extend beyond the wearer's fingertips make it harder to grasp handles or pick up tools
Goggles that leave gaps allow objects, fluids and other hazardous materials to enter
When PPE is too small,
it doesn't offer the same level of protection and puts workers at risk.
PPE with rated load maximums might be inadequate when you consider the weight of the worker, their clothing and any tools they will be carrying
Hard hats offer some room for adjustment, but undersized hat suspension will not properly protect the wearer from head strikes
"Standard" fall protection harnesses are generally designed to protect workers between 130–310 lb., so workers heavier than this range are more likely to suffer injuries when a fall occurs
Additionally, workers may become distracted by the discomfort and inconveniences caused by PPE that doesn't fit correctly. This could also lead to workers not wearing PPE or modifying it—potentially making it less effective or unsafe in the process.
How to Protect Everyone With Proper PPE
PPE only protects the worker if it fits the worker. While the one-size-fits-all approach might work for a majority of your team, you must provide PPE that fits comfortably and keeps people safe, regardless of their size or gender. Here are some tips for ensuring you offer protection that works for all of your workers:
Choose the right PPE—

Conduct a PPE hazard assessment and do some research to make sure the PPE you choose will protect workers from the hazard. Once you get the right protection in place, you can work on getting the right size and fit.

Get worker input on sizing—

If you're not sure what size a worker needs, don't be afraid to ask for input. There's no need to ask personal questions about weight or typical clothing size. Simply show workers the options and corresponding size charts and ask what size they would choose. This handy guide to PPE sizes can also be helpful.

Offer a variety of sizes—

We know your workforce can change frequently, but you can be more prepared to meet worker needs if you make a habit of keeping smaller and larger PPE on hand. Talk to your tool crib or equipment supplier about including a variety of sizes in your standard order.

Keep a directory—

OSHAadvises employers to keep a directory of PPE manufacturers and suppliers who offer a wide selection of sizes, including PPE geared toward women. This can make it easier to find the appropriate items when it is time to order. This list of commercially available PPE specifically designed to fit women's bodies is a great place to start.

Don't be fooled by marketing—

When designing PPE for female workers, some manufacturers simply "shrink it and pink it." This strategy is problematic because "feminized" colors often don't meet the safety standards established by agencies like ANSI or DOT. Additionally, workers may avoid wearing pink PPE in order to blend in with the rest of the workforce.

Training—

Many OSHA standards require employers to provide training in the correct use of PPE. This training should include how to recognize whether PPE fits correctly and what to do if it doesn't. You will also want to make sure your workers know how to request new or better-fitting PPE.
Find More Online