Loss Control Insights for Contractors
Supplemental Snow Plowing: 3 Unexpected Risks to Your Operation (updated November 2021)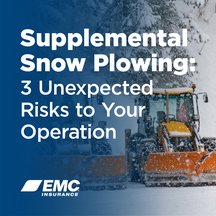 Are you supplementing your usual lawn and landscaping or construction income by plowing snow this winter? Lots of contractors do this successfully, however there are some risks to your operation that even seasoned snow removal pros might find surprising.
Snow Plowing Insurance: Slip and Fall Claims
If you're plowing snow for other entities, it's entirely possible that you may be involved in liability claims for slip and fall injuries that occur on those properties. In fact, up to 90 percent of snow contractor liability claims are related to slips and falls. Liability for these injuries is handled differently from state to state, however there are things you can do to reduce your exposure to these types of claims.
Know the numbers and service accordingly. Slip and fall claims happen more often in areas with heavy pedestrian traffic—think sidewalks and shopping malls—so you want to be especially vigilant in your monitoring and removal efforts of these kinds of properties.
Use contracts for every client. Written work agreements should be in place with all of your customers to ensure everyone is on the same page about when and how you will be servicing the properties. You can find contract templates online, but make sure the document covers triggers for service, areas to be serviced, timeframes in which clients can expect service and a detailed list of your responsibilities (plowing, shoveling, applying salt or sand, etc.). It's also a good idea to have an attorney review your contract template or any changes requested by clients.
Check your coverage. Work with your independent insurance agent to make sure you are covered for your snow removal activities. If you use subcontractors, require that they provide proof of their own coverage.
Keep accurate records. To show that you're adequately fulfilling your responsibilities, you should keep records of weather events and the times/places you perform removal services. This doesn't have to be fancy – even paper logs kept in the trucks can do the job as long as they are filled out consistently and retained.
Lack of Preseason Planning
Once a property is covered with a blanket of snow, it can be challenging to spot hazards to your equipment or to make sure you have cleared all pedestrian paths. Do yourself a favor and conduct preseason inspections of all customer locations before the snow flies. Document property details including obstacles to avoid (speed bumps, tire stops, utility covers, landscaping features, etc.) and special information such as operating hours for commercial clients.
You should also plan ahead to choose the best place to pile the snow for the property. Pick an area with minimal pedestrian traffic where the surface slopes away from sidewalks and parking lots. Otherwise snow melt may cover walking paths and refreeze into slippery black ice.
Spreading Yourself Too Thin During Snow Removal
Snow removal is obviously driven by the weather, which means much of your schedule is out of your control. While you can't control the forecast, you should be aware of the dangers of overworking yourself and take preventative action to work as safely as possible.
Maximize your efficiency. Use your existing equipment as efficiently as possible to minimize the time you spend doing unnecessary work.
Have a backup plan. If a major storm occurs, will you be able to meet the service expectations of your clients? Consider having additional experienced employees or subcontractors on-call to ensure you can meet the demands of your contracts.
Give yourself a break. Fatigue is an often overlooked hazard that can set in after hours of driving. It makes you less attentive behind the wheel, impairs your reflexes and increases your risk of a collision. Tips for managing driver fatigue include banking extra sleep in advance of predicted storms, taking regular stretch breaks during snow removal marathons and consuming caffeine in moderation.
Find More Online