Loss Control Insights for Contractors
5 Surprising Things That Put Your Fleet at Risk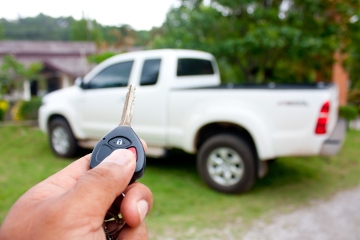 Sometimes the dangers to your organization's vehicles are obvious: a deer runs across the road in front of you, or you need to drive through an overhang with low clearance on the way into a worksite. But some hazards are not so easy to spot. Here are five less–obvious fleet risks that you should be prepared for.
Poorly Managed Personal Use
In many organizations that specialize in contract–type work, company trucks are assigned to employees like superintendents and foremen because they spend a lot of time driving from site to site on company business. This is a nice job perk for the employee, but if not managed appropriately this can quickly become a headache for the employer.
Driving During Off Hours
Your jobs start early, and employees may be traveling several hours from their homes to get there. If they're behind the wheel of a company vehicle during the very early hours of the morning or
late at night
, they face additional hazards that are less common during daytime driving.
Careless Driver Selection
Employees' poor driving behaviors can put your company (and your company's reputation) at risk. Make sure you don't hand the keys to just anybody. We've got a full list of
recommended driver qualification criteria
, but these points are especially key:
Need a hand making sure your drivers have got the right stuff? Consider subscribing to a driver monitoring service that will run initial MVRs and send alerts when a driver receives a violation. EMC Insurance policyholders can get discounted driver monitoring services from SuperVision.
Confusion about the Rules
In larger organizations, it's common for confusion to occur between the people that manage drivers and fleet vehicles. The person in charge of safety might think a certain set of driver selection criteria are being followed, but the human resources area may be using completely different guidelines when they actually do the hiring.
As a best practice, get together at least annually (more is better) with HR, safety/loss control and your fleet manager. Make sure everyone is on the same page about your fleet safety program and who is cleared to drive company vehicles. This is also a great time to update your driver list.
Distracted Driving
Distracted drivers
put themselves, your vehicles and the general public at risk. To minimize distraction, ban the
use of electronics
(tablets, phones, etc.) while behind the wheel of a company vehicle. Creating a
distracted driving policy
, and asking employees to acknowledge it, is a good way to ensure employee awareness.
Find More Online