Loss Control Insights for Contractors
Safety: Not Just for Your Employees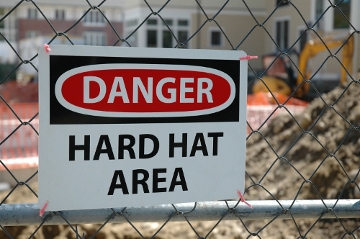 We spend a lot of time talking about the importance of employee safety. But if you're a contractor, your work often requires you to complete jobs in public places surrounded by people who don't work for you. Members of the public may wander into your worksite, putting themselves and your employees at risk of injury.
These injuries can be serious and expensive. We took a quick look at our claims and found these examples:
Pedestrian fell into open excavation pit: $105,000
Visitor tripped on power cord strung across walkway: $40,000
Slip and fall caused by wet paint on recently painted step: $72,000
Customer fell into open crawl space during equipment installation: $17,000
Visitor slipped on floor during chemical stripping operation: $30,000
Pedestrian tripped over tool box: $65,000
Besides the direct financial impact of a claim, you may also have to deal with additional fines or citations from the jurisdiction where the work is occurring. There may be project delays caused by additional inspections, or problems with future permitting if it appears that you're careless when it comes to protecting the public.
Lucky for you, keeping the public out of your work area doesn't have to be complicated. Here's our breakdown of what you need to know.
Plan for People
If your project is taking place in an area where people live, work, conduct business or travel then you need to prepare for the inevitable contact you'll have with them.
Observe the area where the project will take place and look for any obvious places where your work will intersect with people – common examples are pedestrian walkways or roads that become very busy at rush hour.
Talk with the building owner or whoever is in charge of the site to get an idea of where and when you can expect people to get close to your work and discuss ways to safely divert them. It's a great idea to dedicate some time to this topic during any pre-construction meetings.
When deciding on public protection measures, make sure you're considering the environment around the jobsite. Is it a high traffic area with lots of people both day and night? Or is traffic limited to specific times of the day? Is it located in a residential neighborhood with many children who might be curious about your equipment? Or perhaps near a retirement community housing residents with dementia? Thinking about these factors can help you choose the best protection methods for your site.
Pace Your Work When Possible
In a perfect world, you would never have to leave a hole open overnight (or longer). Obviously we don't live in a perfect world, but if your work requires the creation of a hazard, such as a large open trench, it's best to complete it as soon as possible so the hazard can be eliminated. If feasible, only open what is needed for the day's work to minimize the area that needs to be protected at the end of the day.
Protect Your Job Site
If your work areas and hazards can't be wrapped up in a day, make sure everything is buttoned up before you go home. Ideally, the entire perimeter of the worksite should be marked and/or barricaded. If your foremen or superintendents are already completing a daily log or checklist, add a place for public protection to make sure it's being checked consistently.
Any openings in the floor or ground should be protected. Small holes in a floor can be covered with plywood or another covering. For ground openings, pound in some poles and run snow fence around the perimeter to keep anyone from accidentally stumbling in. It's a good idea to take a time-stamped photo (a smartphone works great for this) to document the condition the site was left in at the end of the day. Some contractors may also use large equipment, such as excavators, to block a hole. This is great in theory, but sometimes this equipment is very attractive to kids who may want to climb on it so make sure you're keeping your surroundings in mind.
Consider special measures if you're working in a particularly high traffic or high pedestrian area. These may include erecting chain link fencing, or even hiring a security service to babysit the site overnight.
Find Creative Solutions
The most common barriers we see are barricades (effective, but sometimes pricey) and snow fence (faster and easier), but that doesn't mean they are your only options for protecting the public.
Sign appropriately: Prominently post signs listing hazards or requirements for PPE. While these won't stop everyone, they're a great first line of defense against people who honestly don't realize the dangers of walking through a worksite.
Clean up after yourself: Basic housekeeping practices can go a long way toward preventing slips and falls. This is true for your employees and for any members of the public who might accidentally find their way into your work area.
Consider going cordless: Using cordless tools whenever possible helps eliminate extension cords which are one of the most common tripping hazards we see.
Worker awareness: Make sure your employees are paying attention to their surroundings during the workday and addressing any unauthorized visitors. If you're working in a high traffic area, it can be helpful to identify an employee to keep a lookout for lost pedestrians and help them find their way back out of the site.
DIY solutions: If your site has a unique problem, you may be able to fix it with the supplies and personnel you already have on-hand. Ask your workers for suggestions – you might be surprised what they can come up with.
Be a Good Neighbor
Want to help your projects go more smoothly and prevent unexpected interruptions? Get the neighbors involved in advance. Spread the word about your upcoming project and what residents can expect, including any planned traffic detours or utility interruptions. This may take the form of targeted mailings or informative door hangers, but you may also be able to get some help from sources like city Facebook pages or community newsletters.
Don't Discount Small Jobs
Small projects, such as painting or onsite repairs, can blend in with what's going on so people are less likely to notice them. If the worksite is temporary, you may also have employees that don't want to spend the time or go to the trouble to set up appropriate signage and barriers. Make sure you have clear expectations for public protection in these situations. All it takes is one misplaced toolbox or a stray piece of conduit to trip up a passerby, and suddenly you're on the hook for a very expensive injury.
Find More Online