Loss Control Insights for Contractors
Bring Injured Employees Back Sooner: Transitional Task Ideas for Contractors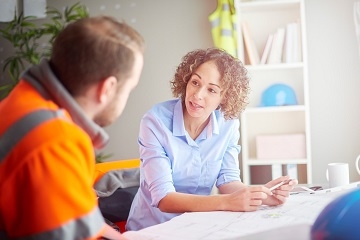 When an employee is off work due to an injury or illness, an effective return to work program can help you bring that employee back to work—in a modified capacity—as soon as they are medically able. This can help you save money and help improve your experience mod. But if that worker is restricted from doing all of part of their normal job, what are you supposed to do with them?
Transitional Work
Transitional work allows an employee with temporary work restrictions to work in a modified or alternative capacity for a defined period of time, while recuperating from an illness or injury. Many times, simply changing regular job duties or hours worked (providing "modified work") can accommodate common medical restrictions. In other cases, you may offer the employee a position other than his or her regular job (called "alternative work") in order to meet the temporary work restrictions.
But What If I Don't Have Transitional Work?
You may not think you have any transitional work available, but a little thought can yield a list of tasks that can be completed by recovering employees. If you find yourself stumped trying to come up with ideas, consider asking your team for suggestions. Employees can usually tell you what tasks are routinely put off due to a lack of time or manpower. These "rainy day" tasks that never seem to get done could be the perfect way to utilize employees who have temporary restrictions that keep them from doing their normal jobs.
Here are a few ideas to get you started:
Safety-Focused Tasks
Equipment Maintenance
Inspect heavy equipment
Take company vehicles in for servicing
Test or repair equipment
Cleaning, repairing and sharpening tools
Fill vehicle/equipment gas tanks
Office Work
Shred outdated materials/paper
Complete upcoming continuing education or certification requirements
Order supplies
Answer phones and schedule jobs/employees
Other Ideas
Conduct an inventory
Calculate estimates
Train new workers
Work as traffic flagger (if qualified)
Run errands
Site clean-up
Site security
Job shadow a supervisor
Find More Online