Loss Control Insights for Contractors
7 Essential Elements of a Fleet Safety Program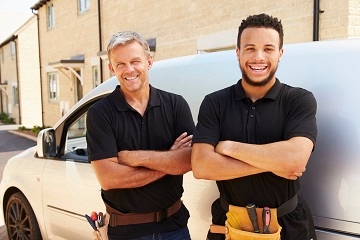 From locked storage containers to overnight security guards and systems, contractors of all types put a lot of effort into protecting their assets. But what about your fleet of vehicles and the employees who drive them?
Unfortunately, they can't be locked safely away behind a fence—they need to be constantly on the move to serve customers, deliver materials and complete jobs. Every mile driven in a company vehicle exposes your employees and organization to possible losses, and even with a small fleet, those miles of risk exposure can add up quickly.
You can help protect these important mobile assets with an effective fleet safety program. EMC makes it easy to get started with customizable fleet safety program templates. To make sure you're getting the most out of your program, pay special attention to these seven key components.
Thorough Driver Screening Processes
Before you hand over the keys of a company vehicle, make sure the employee is qualified to drive it. An employee's driving history is a good indicator of how they will drive in the future, so always check employee motor vehicle records (MVRs) before granting driving privileges. Check out our list of recommended driver qualification criteria for more tips.
Comprehensive Driver Training
Train your drivers on safe driving techniques, the requirements of your fleet safety program and any state or local regulations applicable to your vehicles. You may also want to include ride-along training for new drivers.
Clear Authorization Protocols
Only those employees who are specifically authorized and listed as fleet drivers should be allowed to drive company vehicles. Family members or other nonemployees should not drive company vehicles, unless they meet the driver selection criteria and are granted special driving privileges. Be sure to document and communicate these restrictions to all employees.
Additional miles mean additional risk exposure. Allowing employees to use work vehicles during their personal time means you are more likely to experience a loss. Some companies have decided the convenience of providing employees with a work vehicle isn't worth the risk and keep all company vehicles at a central location where employees pick them up each morning.
Established Fleet Safety Rules
Decide on rules that all drivers must follow and make sure your authorized drivers are well aware of them. Be prepared to take action if a driver is violating the rules. Consider these rule suggestions.
Seat belts

All drivers and passengers must wear seat belts while a company vehicle is in operation.

Traffic laws

Drivers of company vehicles must obey all traffic laws including speed limits and traffic signage.

Driver ability and impairment

Drivers cannot operate company vehicles if they are under the influence of alcohol or drugs that impair their driving abilities. The same applies for drivers who are fatigued or injured in a way that impairs their ability to drive safely.

Electronic device use

Distracted driving causes many collisions and injuries. Do not allow drivers to use electronic devices, such as cell phones, tablets and GPS navigation units, while operating a vehicle. Remember, the FMCSA restricts mobile phone use for drivers of commercial motor vehicles and many states have instituted their own bans on texting or calling while driving.
Regular Vehicle Inspections and Maintenance
Quality maintenance can extend the life of your fleet while making sure your vehicles are safe to have on the road. Inspect and maintain your vehicles as recommended by the manufacturer. If any of your vehicles qualify as commercial motor vehicles, there are special requirements for inspections and maintenance. However, daily vehicle inspections (guided by a checklist like this one) are a good idea for all vehicles you operate.
Regularly communicate to employees when maintenance is due and be sure to track its completion. This can be done manually, or you may want to consider a subscription service or app. There are a variety of these on the market that track maintenance schedules and automatically notify drivers of upcoming required maintenance.
Monitor Driver Behavior and Violations
Make sure your drivers know that they are responsible for any citation or tickets they receive, and that those must be reported to company management. Serious offenses, such as reckless driving or driving under the influence, should result in a suspension of the employee's driving privileges.
You should also review MVRs for all driving employees, including long-term personnel, on at least an annual basis. You may want to consider subscribing to a driver monitoring service that sends alerts when your drivers receive a violation—even if it happens during nonwork hours or in a personal vehicle. EMC policyholders can get discounted driver monitoring services from SuperVision.
Crash and Accident Reporting Procedures
Before setting out on any drive, employees should make sure proper paperwork, such as vehicle registration, licenses and a checklist of post-accident procedures, is in the vehicle. And when an accident occurs, it is important that the driver takes specific precautions at the scene and documents the accident. EMC's accident report form gives a good list of details a driver should record as soon as possible after an accident.
Find More Fleet Safety Resources Online