Loss Control Insights for Contractors
Rental Scaffolding 101 (updated May 2021)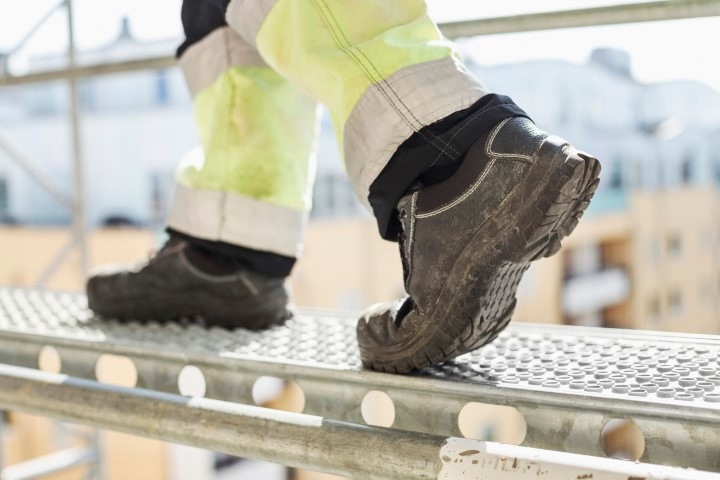 For contractors insured by EMC, falls from elevation are the most costly accidents—averaging more than $48,000 per claim. While this includes falls from a variety of elevated surfaces, such as ladders and roofs, many of the incidents involve scaffolding.
These days, very few tradespeople own their own outdoor scaffolding systems. That's because it's much easier and more efficient to work with a scaffold rental company that handles setup, take-down, transportation of the system and maintenance of the scaffold components between jobs. This reliance on scaffold rental companies, along with customer perceptions that rental companies are "full service" operations, has led to some misconceptions about scaffold safety and who is responsible for maintaining it.
Why Scaffold Safety Is Important
Falls from elevation are a big deal. In the construction industry, falls from elevation (as opposed to falls on the same level that occur when you trip over a cord or slip on ice) are responsible for one-third of all worker deaths, making them the leading cause of death in the industry.
Additionally, scaffolds make for an easy target when it comes to OSHA inspections. A simple glance can tell a compliance officer whether you're getting the obvious stuff like guardrails and toe boards right. Unsurprisingly, fall protection and scaffolding routinely land on
OSHA's list of top cited violations
.
How to Choose a Scaffold Rental Company
The first step to safe scaffolds is working with a reputable rental company that understands the rules and can help you comply. So how can you tell if a company is on the up-and-up? There are a few indicators that can help you determine whether a company understands scaffold safety or not.
Policies and Guidelines—

One of the easiest ways to feel a company out is by directly asking them about their policies, regulations and guidelines for safety. For example, ask the company, "What are my inspection requirements?". If they don't have a solid answer, it could mean they are not well-versed in this topic and may not be able to help you comply with inspection requirements. On the other hand, if they are able to thoroughly explain your role or provide an inspection checklist, that's a big plus.

Qualifications—

Like every other industry, scaffolding companies and the people who work there require special training and qualifications. You may want to consider asking to see their credentials or to hear about their training processes. The Scaffold Training Institute is a common source of training, but what's most important is that anyone erecting or dismantling a scaffold has been trained by a designated competent person. If they aren't willing to discuss their qualifications, it may not be a company you want to place your trust in.

Equipment—

Investing in newer equipment models with the latest safety measures can be a good sign, so look for a company with recent equipment in good working order. Also, be sure to check they aren't missing any vital parts, such as an access ladder. If a rental company's delivery truck shows up without an access ladder, it could indicate they cut corners and may not meet OSHA requirements. Your employees simply cannot safely enter the scaffolding without an access ladder.

Reputation—

While being in business for many years can indicate reliability, it doesn't tell the whole story. Make sure to do your research and check reviews, read comments on social media and talk to past customers, when possible.
Scaffolding Setup Safety
The scaffolding company will set everything up, but it's still your responsibility to ensure it was done properly before letting your employees use the equipment. Most importantly, check that the ground conditions and the base of the scaffolding are solid.
You should also observe the setup process. If your rental company is one of the good ones, they will take action to keep their employees safe. This means the workers are using fall protection whenever possible as they build the structure. This also serves as a benefit because a lack of safe work practices on their part could impact you if an injury occurs because you could be determined as the controlling employer in a multi-employer worksite.
Your Inspection Responsibilities
Many people are under the impression that the scaffold rental company's initial inspection and certification means the system can be considered safe throughout the duration of the project. But this is not the case.
Scaffolds should be inspected by a competent person
after being built, before each shift, after any event that could undermine its structural integrity (e.g., a rainstorm) and periodically throughout the project.
How to Identify a Competent Person
According to OSHA, a "competent person" is one who:
Is trained to understand the requirements of the scaffold standard
Can identify scaffold hazards
Has authority to immediately correct and eliminate hazards
People can become "competent" through training, experience or both. It's a good idea to record which employees are considered competent for scaffold inspections in the scaffold section of your safety manual. While you can identify them by name, it may be more efficient to identify an entire class of employees as competent (e.g., all foremen or all superintendents).
A competent person doesn't need to be on-site at all times, but they do need to be there frequently enough to make sure the scaffolding is still safe as worksite conditions can change.
Do You Need to Record Scaffolding Inspections?
Technically, OSHA does not require scaffolding inspections to be recorded. But documenting inspections can help you be prepared in the event of an OSHA inspection. And most importantly, documentation is a way to hold your employees accountable for safety measures.
Record keeping doesn't have to be complex. Tagging systems are convenient, functional and may be offered by your rental company. With this method, a tag is placed at the entrance of the scaffold. A green tag means the scaffold is safe to use, yellow means it's being worked on and red means it's not safe for use. The tag is a quick and easy visual signal that tells workers the status of the scaffold.
Find More Scaffolding Safety Online