Loss Control Insights for Contractors
Preventing Falls in Construction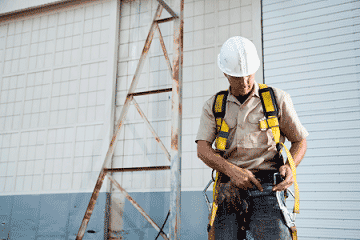 Falls are the most frequent cause of fatalities on construction sites, and account for one of every three construction-related deaths. If you have employees working on a surface with an unprotected side or edge that is 6 feet or more above a lower level, then you need to address fall protection. You can help protect your employees from falls by planning ahead for safety, providing the right equipment and training everyone to use the equipment correctly.
Plan Ahead When Working at Heights
If a job requires
working at heights
—whether that means a ladder, a roof or scaffolds—you should plan ahead to make sure the job is done safely. Decide in advance what tasks will be required and what safety equipment is needed for those tasks. Don't forget to include the cost of that safety equipment when putting together bids and estimates.
Provide the Right Equipment To Prevent Falls
To protect employees working at heights, you need to provide the right equipment for the job and fall protection. Make sure employees are using
scaffolds
and
ladders
that are appropriate for the job at hand. Taking shortcuts or "making due" with the wrong equipment is asking for trouble.

Employees doing leading edge work often need personal fall arrest systems. Provide each employee with a harness, making sure that it fits well. Harnesses should be inspected regularly to make sure they're still safe to use. Protection measures may also include guardrail systems or safety net systems.
Train Exposed Employees on Fall Hazards
Make sure all employees exposed to fall hazards are trained by a competent person. This
training should include
:
The nature of fall hazards in the work area
Correct procedures for erecting, maintaining, disassembling and inspecting fall protection systems
Use and operation of guardrail systems, personal fall arrest systems, safety net systems, warning line systems, safety monitoring systems, controlled access zones and other protection
The role of each employee in the safety monitoring system
Limitations on the use of mechanical equipment during roofing work on low-sloped roofs
Correct procedures for the handling and storage of equipment and materials and the erection of overhead protection
The role of fall protection plans, if used
OSHA 1926 Subpart M standards
Document your training activities and hold onto the records. Make sure you include the name of the employee, date of training and a signature of the person who conducted the training.
Retrain When Needed To Stop Construction Falls
Whenever a trained employee doesn't appear to grasp the skills or procedures required to work safely at heights, you should retrain them as soon as possible. You will also need to retrain if there is a change in the workplace, work procedures or fall protection systems that renders the previous training obsolete.
Common Fall Protection Locations
Fall protection is often necessary at locations like these:
Working on unprotected sides or edges
Constructing a leading edge or working near leading edges that are under construction
On the face of formwork or reinforcing steel
On ramps, runways or other walkways
At the edge of an excavation
Working above dangerous equipment or materials
Performing overhand bricklaying
Reaching more than 10 inches below the level of the walking/working surface
Engaging in roofing activities on a low-slope roof (slope greater than 4 in 12, vertical to horizontal)
Erecting precast concrete members
Residential construction activities
Working on, at, above or near wall openings
Find More Fall Prevention Resources Online