Loss Control Insights for Contractors
Plow Safely This Winter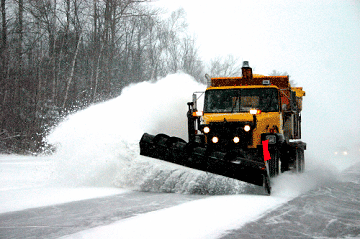 Do you take on snow removal jobs to supplement your winter income? Here are some tips to help make your plowing safer and more efficient.
Drive Safely
Drivers should always wear a seatbelt and never stick their head out the window. Plowing speed should be reasonable, typically no more than 15 mph. General winter driving and defensive driving training can also be helpful.
Know the Terrain
Get familiar with the areas you'll be plowing, looking for obstructions like tire stops, speed bumps and utility covers that may be hidden under snow. Note any abrupt changes in surface elevation, such as transitions from asphalt to concrete. Make a site plan indicating any concerns and communicate to the property owner.
Start with Sidewalks
If you are responsible for sidewalks, they should be cleared first. Push the snow from the sidewalk into the lot and use the plow to push it all away.
Plan your Piles
Pile snow in a location where minimal pedestrian traffic is expected - for example, the far ends of a parking lot. Make sure your pile location slopes away from sidewalks and parking lots, otherwise snow melt can run back onto these walking surfaces and refreeze into very slippery black ice. Also make sure your snow piles don't block access to fire hydrants, mailboxes, driveways, dumpsters or electrical boxes.
Adjust for Other Surfaces
If you're plowing a dirt or gravel lot, lower the plow shoes. This will raise the blade so the surface isn't scraped away.
Find More Online