Loss Control Insights for Contractors
The Basics of Backing Vehicles Safely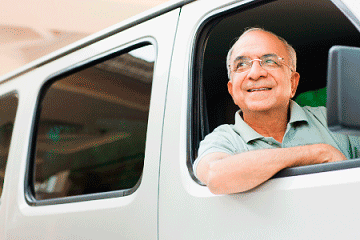 Accidents while backing a vehicle are extremely common. In fact, nearly one in four vehicle accidents involves backing. These tips can help you reduce the risk of a potentially expensive backing incident.
Avoid Backing if Possible
The best way for drivers to prevent backing accidents is to avoid putting themselves in situations where backing is required. When possible, pull through a parking spot instead of backing into it.
Park Defensively
If pulling through the parking spot is not possible, the next best option is to choose an easy-enter, easy-exit location. This often means parking farther away from building entrances and exits where pedestrian and vehicle traffic is heaviest.
Do a Walk-Around
If you must back up, walk around the vehicle's backing area looking for hazards. Then get in the vehicle and leave as soon as possible to minimize the opportunity for new obstructions, such as pedestrians or other vehicles, to move into your path.
Use a Spotter
An extra set of eyes is especially helpful when backing conditions are less than ideal, such as in areas with fixed obstructions like retaining walls, low hanging canopies, light fixtures or overhead wires. The spotter should use hand signals to assist the driver, always making sure to stand at least eight feet away from the backing vehicle.
Beware of Blind Spots
Mirrors never give a driver a full picture when backing. In a medium-sized truck, blind spots can extend more than 15 feet in front of and behind the vehicle. Backup alarms are required on construction equipment, but it's a good idea to install them on other work vehicles as well; especially on vehicles that are large or back frequently. Other options include installing a rear-vision camera system or instructing drivers to tap the horn a few times to alert others that the vehicle is about to move.
Practice, Practice, Practice
If drivers are having a hard time backing vehicles, set up a few cones in an empty lot where they can practice.
Find More Online