Loss Control Insights
Overhaul Your Safety Program to Reduce Risks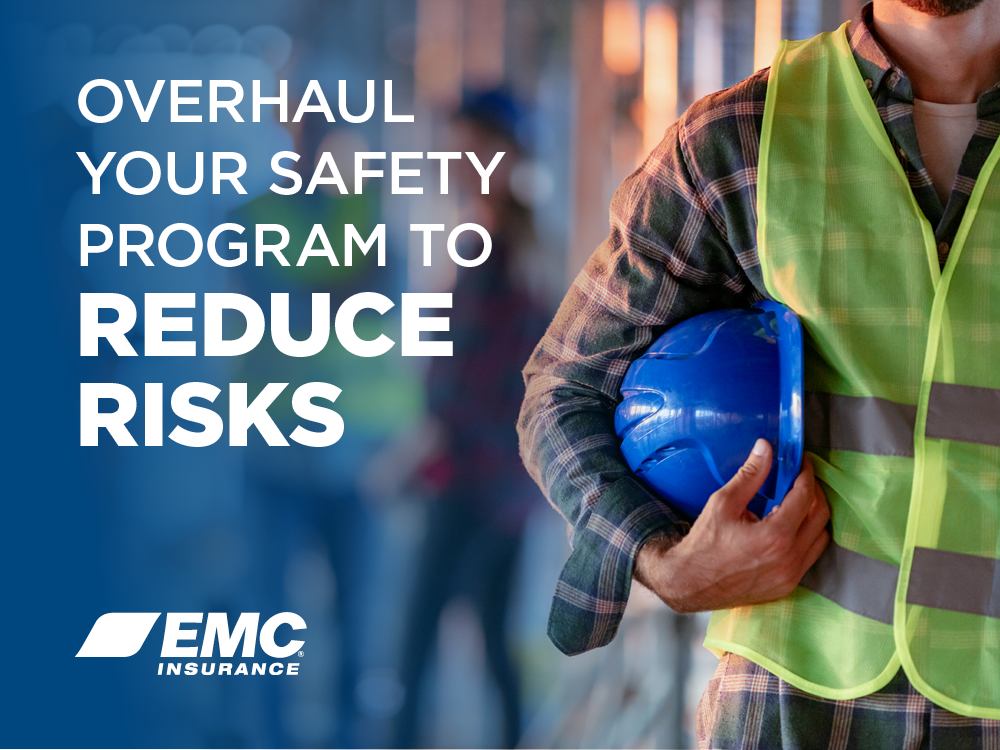 Most industries involve some risk, from manufacturing to construction to care facilities. No matter what industry your business is in, creating and maintaining a safety-conscious culture should always be top-of-mind.
OSHA estimates that an effective, up-to-date workplace safety plan can reduce an organization's injury and illness costs by an incredible 20 to 40 percent. Keeping workers safe and costs under control requires preventive practices and safe behaviors. Follow these steps to enhance your workplace safety program to help reduce claims and keep your workers safe.
Where to Start: Evaluating Your Safety Program
Let's begin by evaluating your current safety program. Employers should periodically step back and assess what's working and what's not. Luckily, auditing your workplace safety program doesn't have to be an overly complicated process.
Here are four steps to evaluating your current safety program:
Step 1: Assess management, leadership and employee involvement—visit each department to get a feel for whether people are invested in the workplace safety program. Leadership buy-in is essential for a safety-oriented culture.
Step 2: Analyze worksite and hazard prevention/control efforts—consider how well the program accounts for health and safety hazards. Break the organization down into segments and evaluate the environment for each segment to identify potential risks. Pay attention to shop layout, environmental hazards (such as dust or slip and fall risks), lifting hazards or repetitive motion.
Step 3: Revisit health and safety training and education protocol—review how employees at all levels are trained on workplace safety. A good rule of thumb is to train:
New hires
Individuals who recently transferred or changed assignments
Any time a new process, substance, or piece of equipment is added
Any time new hazards are identified
Any time refresher training is needed or required by regulations
Step 4: Assess your workplace safety plan—consider whether your workplace safety plan is achieving its purpose. Ask the following questions:
Is the plan up to date?
Is the plan easily accessible by all employees?
Can your employees easily activate the plan?
How to Address Hazards
Anything identified which has the potential to cause harm needs to be addressed. To effectively control and prevent hazards, employers should:
Involve workers, who often have the best understanding of the conditions that create hazards and can provide insight into how to control them
Identify and evaluate options for controlling hazards (Tip: use the hierarchy of controls to select controls that are the most feasible, effective and permanent)
Develop and update your hazard control plan—an effective program will address the most serious hazards first
Implement selected controls in the workplace according to the hazard control plan
Follow up to confirm that controls are effective
Real Life Case Study
Health care workers face a number of serious safety and health hazards. For example, picture an assisted living facility experiencing high volumes of workers' compensation claims due to the manual lifting and repositioning of patients.
Senior management began looking for more effective ways to address injuries among workers. As the facility investigated solutions, its risk improvement representative examined other sources of potential injury within the home. In doing so, it was confirmed that resident transfer and repositioning tasks presented high risks for injuries.
Leadership decided that the best approach was to involve employees at every level in reducing injuries by asking them to examine the tasks of moving and repositioning residents. Employees concluded that they lacked consistency and consensus on the proper body mechanics to lift and transfer residents—which pointed to gaps in the training they received.
With recommendations from employees, the company implemented a new training program. With advice from the company's risk improvement representative, several portable mechanical lifts were also purchased to assist in sit-to-stand lifts and reduce total lifts among staff. The company reassesses its training program and equipment annually, ensuring that the controls in place are effective in reducing claims.
Undeniable ROI
The return on investment (ROI) of workplace safety programs is undeniable. Employers who commit to creating programs that engage employees across all levels of the organization, conduct regular safety audits, actively work to prevent and control hazards and provide ongoing safety training will see drastic differences.