Loss Control Insights
Trends Driving Commercial Auto Insurance Rates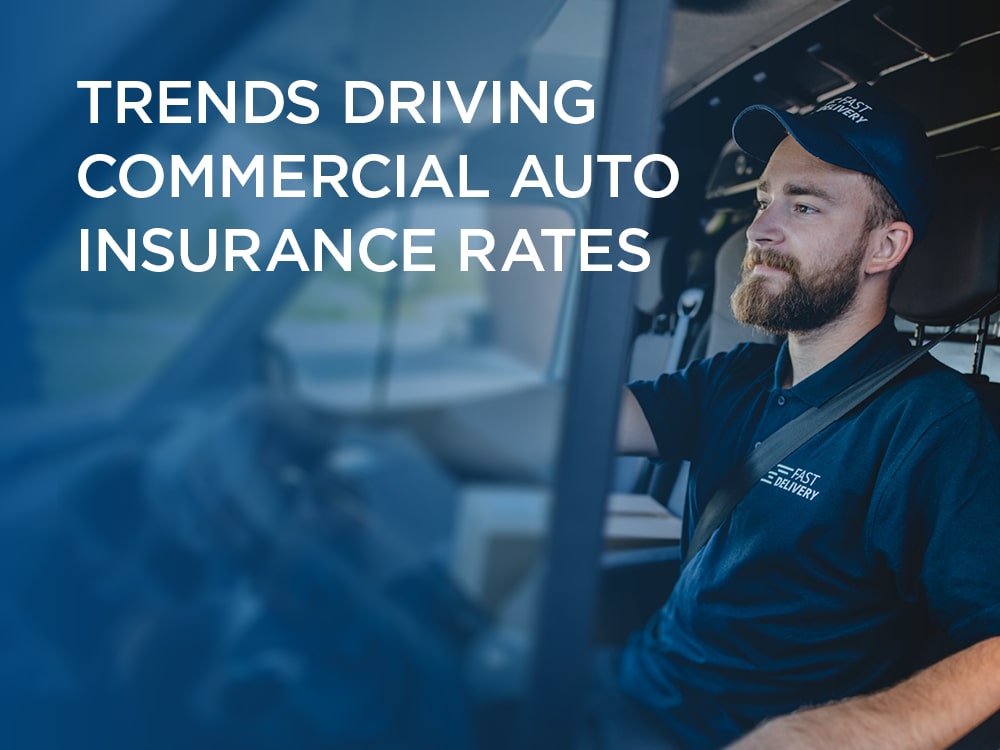 Why Do Commercial Auto Insurance Rates Keep Increasing?
Nuclear verdicts and social inflation — The commercial auto industry experienced its first $1 billion jury verdict in 2021, providing one of the most pertinent examples of the impact social inflation — the increase of insurers' costs due to rising litigation activity and jury awards — has played on driving up commercial auto liability insurance costs. Social inflation alone was responsible for commercial auto claim payouts increasing by more than $20 billion between 2010–2019. According to the Triple I and Casualty Actuarial Society, this amount was equal to 14% of the total claims paid during that period.
Inflation — Between December 2020 and December 2021, the Consumer Price Index (CPI) for used cars and trucks increased 37.3% and the CPI for new vehicles increased 11.8%. Therefore, the cost to replace a vehicle in the event of a loss has increased.
Increased auto repair costs due to supply and labor shortages — According to CCC Intelligent Solutions, the time and cost to repair a vehicle damaged in an accident is rising. This is due to labor shortages in auto repair shops, auto part shortages, the ripple effect from COVID-related manufacturing shutdowns, shipping delays and increased costs for auto parts. An article in the Claims Journal stated the average cost for auto parts increased 6% from 2020 to 2021, the most significant increase since 1997, due to wage inflation and supply chain disruptions.
Changes in driving habits — In the first six months of 2021, National Highway Traffic Safety Administration (NHTSA) reported the highest percentage increase in fatal crashes since 2006 — up 18.4% over 2020. Data from the NHTSA shows these sobering numbers were attributed primarily to speeding, traveling without a seatbelt, driving while under the influence and distracted driving.
Driver shortages and inexperienced drivers — The pandemic and retirement of experienced drivers has caused a widespread shortage of over 50,000 truck drivers, forcing many organizations to lower their driver standards to fill positions or extend driving hours for experienced operators. According to the American Transportation Research Institute (ATRI), this increases the likelihood of being involved in an accident.
Recommendations for Building a Culture of Fleet Safety
• Implement a fleet management program that fits the specific needs of your business.
• Purchase vehicles with the latest Advanced Driver Assistance Systems (ADAS) technology, including automatic braking, rear and cross-traffic cameras, and lane deviation warning, to prevent or reduce the severity of accidents. Such vehicles may be eligible for premium discounts or reduce the cost of maintenance.
• Provide consistent training and reinforcement that prioritizes safe driving practices. Consider a driver retention program to retain experienced drivers.
• Review your commercial auto policies with your insurance agent annually to determine if any changes need to be made and ensure that proper coverage is in place.
Six Practices for Effective Fleet Safety and Loss Control
Implement these six driver safety practices to enhance your fleet and driver programs:
1. Driver selection
Establish driver disqualification criteria and check motor vehicle records
2. Safety rules
Establish rules for cell phone use, seat belt use and driving under the influence
3. Vehicle maintenance
Document daily inspections and make all necessary repairs
4. Authorized vehicle use
Create a policy to address authorized drivers and approved business purposes
5. Driver training
Train drivers on all company safety rules, including defensive driving
6. Accident reporting and investigation
Keep proper forms, instructions and contact information in company vehicles
Additional Fleet and Driver Safety Loss Control Resources for EMC Policyholders
Safety briefs — one page driver information pieces covering safety tips for drivers
Customizable forms — download EMC's fleet safety template and document your fleet safety improvement efforts
Tech sheets — read about safety tips for improved fleet operations BASIC safety documents — resources to help you comply with federal rules and regulations from the Federal Motor Carrier Safety Administration (FMCSA) division compliance, safety and accountability (CSA)
Safety posters — place in breakrooms and other common areas to educate drivers on a variety of fleet safety topics
Online training videos — supplement ongoing training initiatives for drivers
In-person training — get assistance from EMC Risk Improvement professionals