Loss Control Insights
New 10-Digit Dialing Causes Issues for Security and Emergency Alarm Systems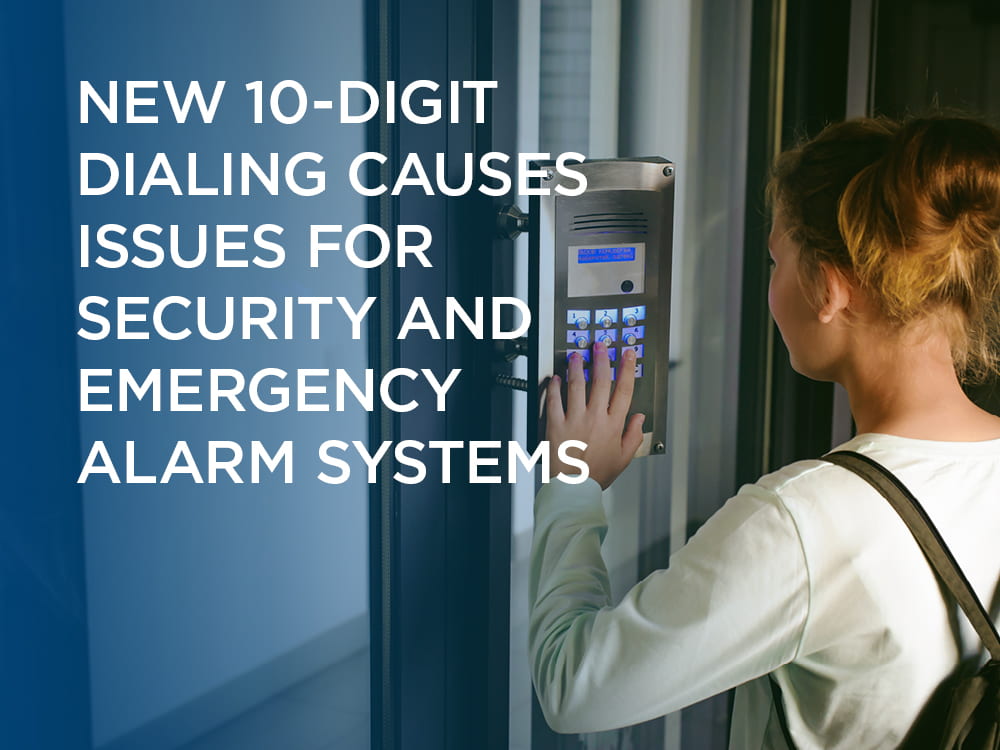 In 2020, the Federal Communications Commission adopted rules that establish 988 as the 3-digit number for the National Suicide Prevention Lifeline. Beginning July 16, 2022 this new 3-digit dialing code will provide an easy to remember and easy to dial three-digit number to reach suicide prevention and mental health counselors, similar to "911" for emergencies. This transition results in the need for 10-digit dialing in order for calls to be completed in some areas of the country. Because many alarm and security systems rely on phone lines, this change can cause issues.
What is 10-digit Dialing and Where is it Required?
Ten-digit telephone calls require both the three-digit area code and the seven-digit phone number. After transitioning to 10-digit dialing, local calls will not be completed if you only use seven digits. Over 80 area codes in 35 states and one territory are required to use 10-digit dialing. By July 16, 2022, providers will be required to implement 10-digit dialing in all affected area codes.
How Does 10-digit Dialing Affect Security and Emergency Alarm Systems?
Some security systems were programmed with local numbers without area codes. If security and monitoring companies do not update their systems to dial the area code, there can be communication failures. If an alarm system isn't updated and doesn't warn the company of a fire or break-in, emergency services won't be alerted and dispatched.
It isn't just break-ins and property damage that you need to worry about. Some building security gates and doors require phone numbers for entry. If the system isn't updated for 10-digit dialing, business owners and residents could be unable to access their property.
Updating security systems can help prevent losses and property damage. It is best practice to test your systems monthly for functionality. Homeowners and business owners should contact their alarm and monitoring companies to ensure the change to 10-digit dialing has been made. A technician may need to assist in updating any security and alarm systems.
How Does 10-digit Dialing Affect Other Equipment and Services?
It's important to remember to check other monitoring system, too. Some life safety systems and medical monitoring devices also rely on local numbers. Contact your medical alert or security provider to make sure your devices have been programmed properly.
Any equipment or services that were programmed to use seven-digit phone numbers will need to be updated. These include, but aren't limited to:
Private branch exchanges (PBXs)
Fax machines
Internet dial-up
Elevator emergency phones
HVAC or building automation systems
Vehicle phones
Speed dialers
Call forwarding and voicemail
Mobile contact lists
Email signatures, websites, stationary or other contact information
Advertising materials
Business and personal checks
Identification
Review all of your services, devices and equipment that are linked to your phone number. If you don't switch to 10-digit dialing, you will receive a communication failure or a recording stating the call cannot be completed as dialed.
What Will Stay the Same After the Transition?
While some systems and services will need to be updated and the dialing process will change, many things will stay the same after switching to 10-digit dialing, such as:
Phone numbers and current area codes
Prices of calls, coverage, rates and services
Local calls
Dialing 1+ area code + telephone number for all long-distance calls
Three-digit dialing such as emergency services (911) and relay services (711)
The National Suicide Prevention Lifeline will also still be reachable at 1-800-273-TALK (8255).
It is always good practice to call 911 in cases of emergency, even if you have an alarm system.
For more information regarding 10-digit dialing, visit the FCC's website or the North American Numbering Plan Administrator.